Behind Bars
Spot Inspection
Spot 79 on SE Foster is a mysterious venue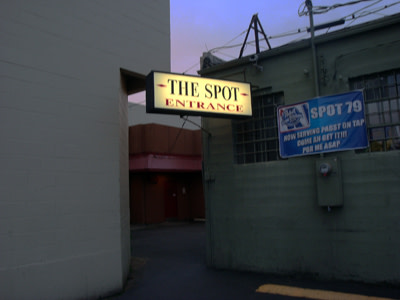 The first bar in Portland that I ordered a drink in was Spot 79. The first bar in Portland that ever declined my credit card was Spot 79. And the first bar in Portland that I was "cut off" in was Spot 79. In fact, I think it was all during the same visit. Anyway, it was a while ago, and my memories are dim.
But even though I've been patronizing this SE Foster enclave (off and on) for 20 years, I know very little about its history and origin. I know it's been remodeled a few times; it used to be the home of karaoke hosted by a very outgoing female impersonator; there was a Portland band named after it in the 90s; and a friend's grandfather cooked there for like 30 years "back in the day." Unfortunately, a few internet sweeps on the subject of Spot 79 reveals precious few clues.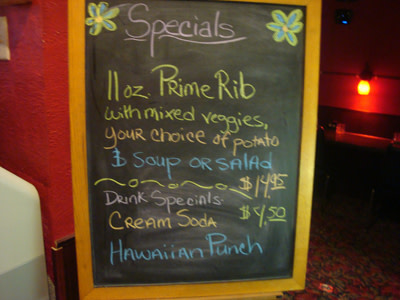 My posse and I dropped by last Friday for steak and cocktails—and for $14.95 you can't beat the 11 oz. prime rib with salad, potato (the skinny fries are the way to go), veggies, and Texas toast. True, we're not talking Kobe beef here, but as my friend Scott likes to say, "It's the best $25 steak for $15 in town." He ought to know. He lives across the street.
We also had several rounds of Cream Soda ($4.50), the cocktail special of the moment. Made from Captain Morgan's rum, Tuaca, and Seven-Up on the rocks, the drink tastes exactly like its name—but can cause a headache if consumed immodestly.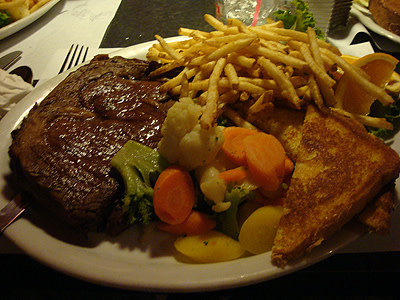 As a devotee of Portland landmarks, and a fan of the old American steakhouse scene of the 50s and 60s, I was hoping a village elder could fill me in on some historical data about Spot 79. You know the drill: tales of lovers betrayed, legendary characters, gangland slayings—that sort of thing. Sure, it's been retrofitted as a sports bar and karaoke lounge, but Spot 79's dark crimson decor and air of faded elegance are a living link to the Mad Men era of smartly tailored threads, huge slabs of red meat, and zaftig dames in pencil skirts. I'm listening!
NOTE: Don't forget to fill out our Portland Monthly drinking survey. You could win a $100 gift certificate to the Ten 01. Not too shabby, eh?