Happy Hour
Happy Hour: Ate Oh Ate
Great plates at Ate Oh Ate
What's the Bar Pilot's equivalent of "don't judge a book by it's cover?" Probably something along the lines of "don't diss a dive by its decor" or "don't bad-mouth a bar because of its booths." You get the idea, I think.
Case in point: Last week I visited a very upscale restaurant to partake of Happy Hour in its bee-yoo-tee-ful patio lounge. With three fire pits, immaculate landscaping, and a decorative wall of foliage, even a member of society's flotsam like myself felt VIP-worthy for a short time. Of course, I paid for the privilege, and was rewarded with two feeble cocktails and a plate of undercooked calamari. Pricey. Waste. Of. Time.
In an effort to revive flagging spirits, my three-person posse ambled over to Ate Oh Ate (a play on the Honolulu area code) on East Burnside for some Hawaiian comfort food. This humble little cafeteria—order at the counter and then plant yourself—is part of Ben Dyer's burgeoning Simpatica/Laurelhurst Market empire which automatically gives it the local foodie seal of approval. The decor is subtle: there are surf-shack knickknacks scattered hither and yon, and the walls are painted sea-of-tranquility blue. And that's about it. But the dough they didn't spend on ambiance is passed along to you, the hungry customer. There's nothing on the menu over $10.95 and the portions are tsunami-sized.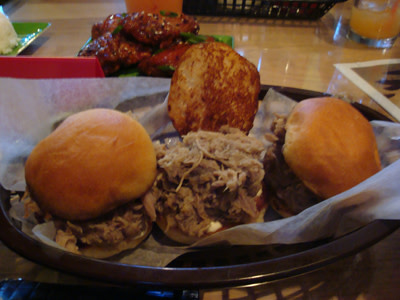 Happy Hour is from 4-6 daily and includes a half-dozen delightful plates ($2-5) that can be passed around luau style. Five dollars gets you five ample Korean chicken drumsticks that require an acre or two of napkins to keep your kisser clean. The smoldering chili marinade is augmented with pepper and a gentle brush-stroke of teriyaki sweetness that ensures leisurely finger-licking with each bite. The spam musubi tempura ($2) is an island version of sushi, with a tempura batter-fried shell of rice protecting a core of egg and spam. It comes with thousand-island dipping sauce—apply liberally. There are two varieties of sliders (three for $5), namely kalua pork and shoyu chicken. They were out of the chicken during my second visit (sad face emoticon) but the succulent and generously piled pig was a worthy consolation prize.
Needless to say, you can eschew the appetizers and saddle up for a full entree if you so desire. The Loco Moco ($10.95) is a substantial and highly authentic example of Hawaiian-plate cuisine, with a hamburger patty, rice, fried eggs, and a coat of Shiitake gravy heaped in beguiling fashion onto a very crowded dish. The saimin ($8.95), is like a Hawaiian pho; a vast bowl of noodles swimming in a sea of shrimp, chicken, and pork broth bolstered with reefs of fish cake, pork belly, and eggs. The ebb and flow of flavors is relentless and requires some meditation to sort out the sweet, salty, and sour sensations. The kalua pig ($8.95) is a happy mound of smoked and roasted pork shoulder that manages to be both light and luscious.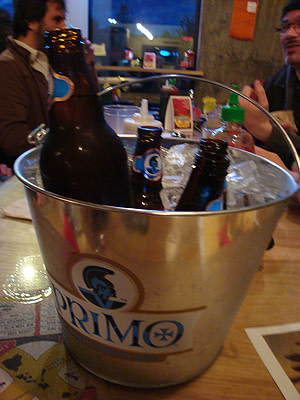 And let's not overlook the liquid refreshments. The mai tai ($8 in a pint glass) offers an instant blast of sweetness that's brought back to earth thanks to the tangy fresh pineapple juice, while the light and dark rums mingle most effectively. It's probably the tastiest tropical drink I've bought since my last island sojourn. There's also PROG (passion fruit, rum, orange, and guava) and a traditional Dark and Stormy (dark rum and ginger beer) for about the same price. If you've got a group in tow, then a five-bottle bucket of Primo ($10), a surprisingly full-bodied Hawaiian lager, is a smart option. The modestly hopped brew does wonders for rinsing your palate clean of chili paste, peppers, and the ever-present tide of teriyaki.
During my second visit, my friends and I wiled away the entire two hours, sharing plates, drinks, and scintillating stories, completely indifferent to the stormy weather pattern that was developing outside. When you have such a winning variety of spicy dishes, full of exotically bold flavor combinations laid out at your table, conjuring up a little tropical paradise of your very own is child's play.