Eat Here Now
Hoop Dreams
Spirit of 77: slam dunks and flagrant fouls at Portland's new bohemian sports bar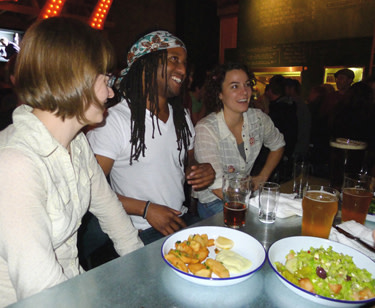 In his hard-dribbling, often hilarious Book of Basketball (a must-read for anyone who loves good writing), sports writer and truth-teller Bill Simmons reveals "The Secret"—why scrappy teams win while seemingly unstoppable foes self-implode: "It's not about basketball," argues Simmons. Winning teams are less about the best players than players who best complement each other—a pecking order of personalities who actually like each other, ignore personal statistics and playing time, and sacrifice to make everyone else happy.
You get the sense that the budding all-stars behind Spirit of 77, an experimental Blazer-loving sports bar opened in mid-October, know the code—at least based on their track records and the warm, collegial vibe of a space that lives somewhere between Bohemian Portland and Dude Heaven.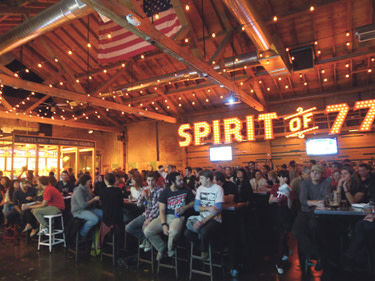 Collaborators Jack Baron (The Ace Hotel) and Nate Tilden (Clyde Common, Olympic Provisions) pooled their considerable design and business savvy to assemble something distinctly Portland, a Next Generation sports bar with communal tables, a cinema-sized screen and a visually striking, play-for-free buzzer beater arcade made by The Original Manufacturing Company, the Harlem Globetrotters of local designers—fun and flashy.
Respected barman and GM Tim Davey comes off the bench with various plays. His creative bar program extends to (red-headed) late-night drinks, sipped to the projected visage of Conan O'Brien. Among the inspired cocktail names: "Up the Anesthesia."
The strategy includes a menu several bounce-passes beyond Chicken Strip Cuisine, a small eclectic beer list, and some better-than-expected wine choices. You'll also hear phrases like "Would you like a poached egg with that?"—which in the sports world is akin to the question "Want to go shopping with me today?"
Also in the house: folded white gym towels in place of napkins, an espresso corner, and an indoor bike rack.
No wonder closet sports fans are streaming in—off-duty chefs in baseball caps, the gay and the straight, guys in neo-pork pie hats, rocker gals who look straight out of a Dandy Warhols video. Game on!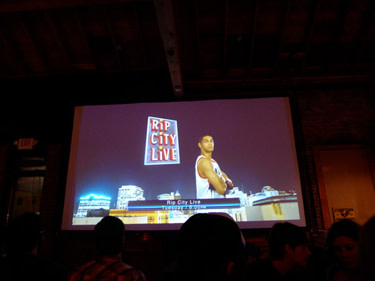 MENU ROSTER
The modest-sized list aims to rethink classic pub food with techniques not typically found in sports bars (hello, confit chicken thighs!), some seasonal love, a little blue-collar chic. Think spinach salad with roasted chanterelles; skirt steak with corona beans and arugula; an eggplant parm sandwich…with pesto; and specials like chopped liver or spicy squid, all around $8–14. Happy hour brings on $3 munchies like almond-butter-and-chorizo sandwiches.
SLAM DUNKS
Anything fried—that goes from chunks of crusty-salty fried baked potatoes to crispy little hush puppies aided by rocket-flaring jalapeño jam.
JUMP BALLS
Chicken Pot Stew, a deconstructed pot pie, isn't as creamy-rich or soul-satisfying as the best versions, but the warm bun in place of a crust works beautifully. The Patty Melt delivers good meaty flavor, a solid rye shot, and some sweet onion punch, but it's awfully wet and messy. The homely heap of garbanzo beans on the side is an air ball. Bench it.
FLAGRANT FOULS
The salads have no game—they're yelling for salt and vinegar tang. Chicken thighs have the texture of rubber ducks, and the accompany "spicy" chile sauce wouldn't frighten a grade-school gamer. And maybe it's a jock thing, but the military-issue white tin bowls make the food look straight out of Prison Break.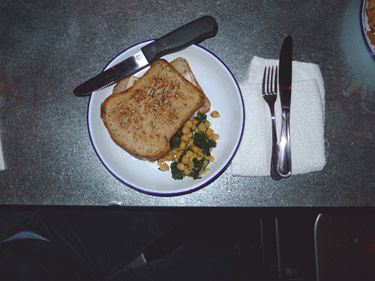 POST-MEAL ANALYSIS
So far, it's a great hangout, a combo art-house movie theater and man circus—and the best place in Portland to soak in a Blazers game in the company of strangers. The food is certainly a step up from other sports bars, with better ingredients and better ideas. Still, given the talent pool, you expect the kitchen to kill the competition with Terminator-like determination, to be like Mike, or, god help us, the Lakers last Sunday. The kitchen needs some in-your-face signatures—the Spirit of 77 equivalent to the Pok Pok chicken wings. The menu could use some fleshing out: a better sandwich selection in a sandwich-loving city, some fun snacks like Clyde Common's popcorn, and something—anything—sweet (how about some good cookies?).
But remember, it's still the first quarter here. Spirit of 77 is just getting its court legs. With sharper food and service, it could be a game-changer. I'm hopeful this team knows The Secret—and what it takes to win.