Eat Here Now
The Secret Thanksgiving Potluck
…and some other reasons to give thanks at Coffeehouse Northwest.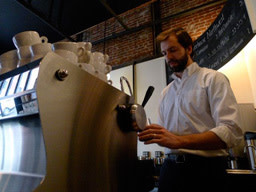 "Anyone totally welcome." That's the message at Portland's most inspired Thanksgiving dinner: a pop-up potluck, 7–11 p.m. at Coffeehouse Northwest (1951 W Burnside St), where expert drinks are sweetened with super-friendly service, engaging art, and curated music.
But first, let's begin at the beginning: 8 a.m.
That's when cappuccino perfectionist and microroaster Adam McGovern and his barista posse, in natty threads and formal dresses, begin preparing four hours of drinks and snacks on the house to raise money for a couple charities. The crew—who are volunteering their time—will pool their tips for an agreed-upon charity.
Last year's haul of $900 went to malaria nets for kids in Africa. Nothing but Nets will be a recipient again this year, along with Reach Ministries, an AIDS foundation.
No fee is necessary to join in the potluck, which draws shop regulars and newcomers, folks who are relative-free, or just sick of the relatives. Just email [email protected] if you want to bring something. Last year's table had three turkeys, 10 pies, a storm of miscellaneous plates, plus "some crazy duck confit" from Coffeehouse Northwest's renegade baker, Adam Kennedy. Plus, there was plenty of dancing in the aisles.
So what drives McGovern to work on a holiday—without pay?
"I've always loved Thanksgiving as an unlikely US holiday, the spirit of generosity and thankfulness being so far from the metalled ways of commerce," say McGovern. "Thanksgiving at Coffeehouse is similarly more about not taking money than giving away coffee: providing, than serving."
Thank you Coffeehouse Northwest.