We Approve
From the Beer Aisle
Suds and shopping = good idea!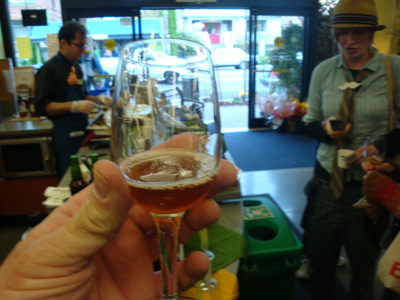 I love the sample station at New Seasons. It's a small-bite Shangri-La where the squash soup and vegan brownies flow like sweet sap from the mighty maple. I popped 'round the new New Seasons on SE Hawthorne yesterday and couldn't help noticing that the sample squad was pouring three different kinds of fresh-hop beers. I realize that tonier stores do this sort of thing periodically, but this was the first time I was lucky enough to mooch a few swigs.
Quick review: Rogue's Chatoe First Growth Wet Hop Ale was a vigorous blast. Comparatively, Deschutes's Hop Trip was rather weak tea. Fresh- or wet-hop beers refer to ales made from newly harvested, undried hops.
But why should we settle for a mere thimbleful? I propose a (free) beer and wine tasting room at all upscale grocers where parched patrons can toss back a glass or two of whatever is on sale that week. How can they lose? If you loosen up the average shopper they're more likely to succumb to the allure of impulse purchases. Can somebody get on that and mail me a check?
Needless to say I am available for the ceremonial tossing of the first drunk.