Beer Bulletin
Ale Fest Files
A quick report from the Holiday Ale Festival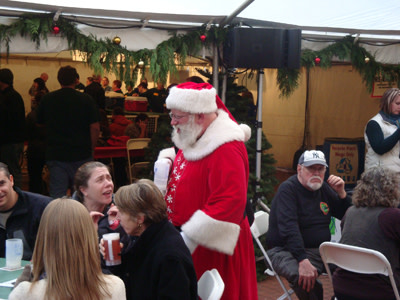 No matter how many precautions you take; no matter how much water you drink; no matter how slowly you sip; you're going to get a colossal buzz on when reporting from the Holiday Ale Festival. The beers are just too big, bold, and brawny to keep a level head, with many weighing in at 10 percent alcohol by volume. I sampled eight different brews that ranged from "Meh" to "OMG."
It's also a good idea to arrive early; as the clock ticked late into the afternoon, the lines became more congested (as did my sinuses). Kudos to festival organizers for pitching such a balmy, well-heated tent at Pioneer Square. I recommend the $2 coat check—proceeds benefit the Children's Cancer Association.
Knee-jerk reviews:
Strongest: Figgy Pudding from Corvallis's Block 15 Brewing
Tastiest: Kentucky Christmas from Hopworks
Smoothest: Old Stock from North Coast
Blandest: Ginger Beer from Buckman Village
There will be a more detailed post to follow, but I'm going to have to lay low for the time being. There was a bully at the fest who dumped a beer on my head and tried to pick a fight with me. I barely escaped with my life! I managed to get a picture of him, though. If you see this guy, avoid him at all costs.