Breaking Food News
Olympic Provisions Shake-Up
Jason Barwikowski departs while Clyde Common's Alex Yoder is tapped for kitchen duty at Portland's charcuterie haven.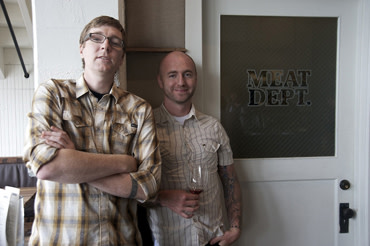 Eight friends and couples, going their own way, cooking the Euro-flavored food they loved in a their own hand-forged candlelit space—and grabbing attention as a charcuterie hot spot—seemed a dream right out of communitarian Portland.
One year later, Olympic Provisions' little food Eden has broken apart, as first reported on the Portland Food and Drink blog. Chef Jason Barwikowski, a notable name in Portland's indie food scene, and his wife Carly Laws (OP's respected wine-list curator), have departed.
OP mastermind Nate Tilden is going back to the farm team that fed the restaurant from the beginning: his Clyde Common. According to Tilden, Clyde sous chef Alex Yoder will take over chef duties in mid-December, and sommelier Star Black will assume double-duties at both places. Yoder worked with Tilden and OP's charcuterie lord Elias Cairo at Castagna Cafe, working as a sous chef. Like Barwikowski, he has a passion for Spanish and Morrocan flavors. Tilden doesn't expect the tone to change radically, though the restaurant will push further in a new direction seen in recent weeks—a casual checklist of charcuterie and snacks for a make-your-own meal approach.
The breakup comes as Tilden and Cairo are sharpening plans for an expansion in the former Carlyle space NW Thurman St, set to open next spring. Word about plans for the still-unnamed project has been under wraps, in part because the partnership plans were shaking down and out. The goal of "OP2" is to feed a howling demand and expand the options for the charcuterie arm, with 3,500 feet of curing space (eight times larger than OP's current meat lab) and a full-size, professional-grade smoker. But eating is on the table, too, with more plans for a small café showcasing rotisserie chicken and shmatlz potatoes (think potatoes saying hello to some glorious fat drippings), along with a little raw bar and, of course, charcuterie to go.
So in the end, what happened to the merry little band?
Tilden says the group had some disagreement in vision. Multiple owners in any creative project is a challenge, as anyone who ever played in a rock band will attest.
"Making day in, day out decisions; a lot of people with fingers in the creative pie is difficult," says Tilden. "At end of the day, the business as an entity had to make wise and creative decisions. It slowly became clear that the vision wasn't unified on how to stay healthy or proceed to the next phase."
Tilden, one of Portland's smartest young entrepreneurs, has a number of plays right now, including his new co-ownership of Spirit of 77, the Ace Hotel of sports bars at 500 NE MLK Jr Blvd. But Olympic Provisions, mostly a hands-off experiment, will now be his focus.