Cheap Date
Feeding Hungry Hearts & Bellies in NoPo
The price tag on a date at Liberty Glass? Cheap. Sharing a tasty, satisfying meal with loved ones in a comfy, unpretentious environment where they turn the music down if it gets too loud, without you having to ask? Priceless.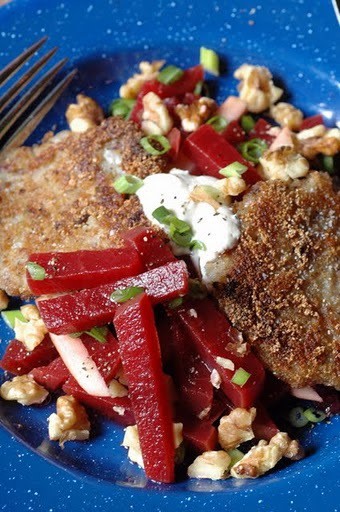 It's unlikely they will ever receive a nomination for a James Beard Award; however, if I had to name my top three favorite local places to eat, North Portland's Liberty Glass (938 N Cook; open daily, 5pm-2:30am) would most certainly be among them.
Located at the most southern tip of the Mississippi strip, occupying the forlorn-looking two-story pink house that once upon a time was the original home of Lovely Hula Hands (RIP), this warm, rustic eatery/bar is the kind of place where you'd like to get snowed in with your sweetie, a good friend, or an entire posse of your favorite peeps—all combos make for a good date here. During the winter, play cards and sip fantastic hot toddys or chai buttered rum at a cozy table. During the summer, enjoy a refreshing house-made ginger kombucha & pear brandy cocktail while sitting on the porch or patio, where a wood-stove will help you combat the evening chill.
As for what to eat, the menu includes a range of meat, vegetarian, and vegan options, all $13 (the blackened hanger steak) or less, all hearty portions, and all delicious. You could always start your meal with the piquant tuna and anchovy stuffed eggs ($4) or a plate of the infamous Triscuit nachos with cracker sauce ($8), but I always go for the vegan beet salad (see photo caption) and/or the cheese plate—a gorgonzola cheese ball, baby Swiss, Red Dragon (brown ale and mustard seed cheddar), salami-of-the-moment, spiced tomato jam, olives, and ridiculously addictive olive-oil grilled bread, all for $10.
For your main meal, you could try the flavorful picadillo ($9), a spicy Cuban sandwich consisting of a roll filled with shredded beef, onion, green olives, roasted red peppers, capers, and golden raisins simmered in a tomato sauce, and then topped with horseradish mustard and crispy onions.
But everything pales in comparison to the meatloaf-style "Over the Rainbow" mac and cheese ($12). Cut thick, battered in rice flour, and topped with Swiss before it gets pan-seared to perfection, this is soft, gooey, uber-cheesy sate-my-soul food. Served with a green salad and homemade cheddar pepper biscuit, it is, in my opinion, the best mac and cheese in town. Do you hear me, James Beard Foundation?
Stop in for Happy Hour, 5-7pm, and get $1 off pints and appetizers.