Beer Bulletin
More Ale Fest
Chugging and chatting at HAF 2010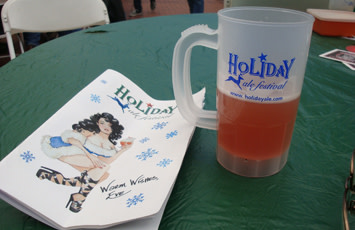 Good on me for having the sense to arrive at the Holiday Ale Festival shortly before 2. There were plenty of people present but the lion's share of the attendees were probably still at work trying to cough their way out early with wildly exaggerated flu symptoms. The lines were extremely manageable.
One can tell a holiday ale fan at a glance: they're big and bearded (the guys anyway, only a few of the gals), a winter beer flavor profile made flesh. Hearty and highly insulated, we're happier than Dracula at a hemophiliacs hoedown, comparing elusive spices ("Cardamom? Clove? Cinnamon?") and the mysterious influence of wood ("Bourbon? Pinot? Brandy?") on the barrel-aged brews.
There were a few topics of conversation that seemed to be making the rounds. Some of the old-timers were miffed about having to wear paper wristbands. A wristband is tolerable if you're only attending one day of a festival, but expecting return visitors to keep the damn things on for three or four days is ludicrous. For one thing, you look like a nincompoop when you're anywhere other than the fest. For another, they begin to chafe if left on indefinitely. Could we just get microchipped or something?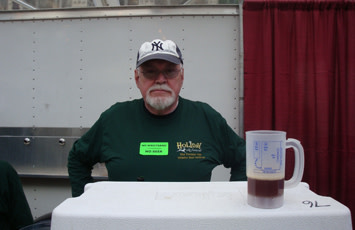 Another lively debate popped up on the subject of aged beers. I was tipping a sample of the Deschutes Jubal 2000 (a special pour that cost the princely sum of two tasting tickets!), a 10-year-old version of the company's signature Jubelale. I thought it was serviceable, but a few of the fellows at my table were not pleased and proclaimed the concept of barrel-aging to be a scam. "We're not wine drinkers!" one of them bellowed. "We drink beer and we don't want to wait 10 years for it! And it costs a fortune!" Just stick with it, guys, and you'll soon be singing a different tune. Life is full of surprises and disappointments. Not every beer is robust enough to stand up to the forces of time and oxidation.
For instance, Hopworks Brewing was represented by a stellar selection called Kentucky Christmas that was as inspiring and complex as a Debussy orchestral work. After aging Hopworks' Abominable Winter Ale in Buffalo Trace bourbon barrels, the resultant brew was not only bold but replete with subtle shadings of vanilla, caramel, and toasty malts. I nursed my two-ounce sample with ultimate care, treasuring it like a gift from the beer gods.
The other brew that annihilated my palate was the Figgy Pudding Olde Stock from the much ballyhooed Block 15 Brewing in Corvallis. For such a muscular offering (11 percent alcohol), Figgy presented a cavalcade of intriguing of sensations. The presence of wine, molasses, and figs was undeniable, but the cunning addition of Christmas condiments like cinnamon and nutmeg made it more than Wassail worthy, and I greatly look forward to more beers from this enterprising operation.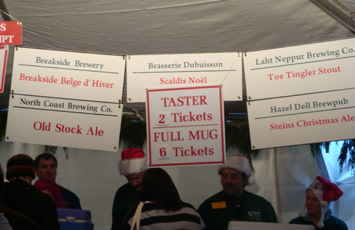 I probably should have varied my tastings a bit, interspersing a few lighter beers into the mix, but the temptation to try as many barley wines and strong ales as possible proved too great. The Cranberry Saison from Gilgamesh Brewing in Turner worked as an invigorating palate cleanser. Compared with the sledgehammer beers that typify the fest, this fruity little number was a cheeky and refreshing relief.
See you next year! I could only attend one afternoon of the festival, because my dog Iggy chewed my wristband off. Does that mean he can get in?