Happy Hour
Happy Hour: Miss Delta
Rolling with Miss Delta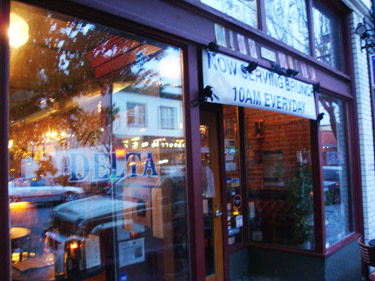 "I like these cold, gray winter days. Days like these let you savor a bad mood."
I can't remember if the preceding quote was from Thomas Hobbes or Calvin and Hobbes, but it suits me. Having never lived anywhere other than Oregon, you would think my system is perfectly attuned to cold, wet, and dismal days. And so it is. But it's on days like these that a little hot coal of anger can do wonders for keeping a body focused and ambulatory.
In retrospect, I probably should have put off reviewing a Happy Hour until I was in a better mood. The source of my grouchiness was really nothing specific, but can be scientifically explained by reading this incredibly insightful post from Hyperbole and a Half, a website recently endorsed by our own Anne at Culturephile.
Enough exposition. By the time I arrived at Miss Delta on N Mississippi, it was dark, rainy, and tragically cold. I wasn't feeling social, glib, or especially inquisitive. But I was really hungry, and so it was that my base instincts triumphed over my smoldering resentment of the universe. Miss Delta is the slightly-less-thrift-store-funky offspring of the original Delta Cafe on SE Woodstock, a joint that earned its rep by dropping huge platters of Southern cooking on its customers for embarrassingly small sums of money. I can remember ordering the meatloaf special—with two sides—for five freakin' dollars. The Delta was never a bastion of culinary precision, and that's still the case, but the heaping portions are standard issue, and if you can make it to Happy Hour (3-6 daily), the prices are straight out of the late 20th century.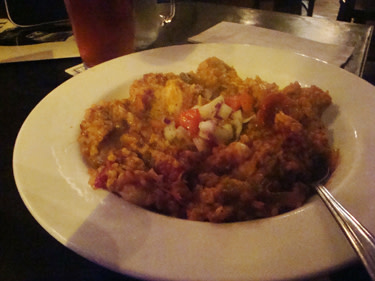 Let's start with that ubiquitous trailer-park staple, meatloaf. The kitchen crew at Miss Delta aren't shy about repurposing the chow, as evidenced by my meatloaf mac and cheese ($6), and my brother's meatloaf po' boy ($6). We were told that the meatloaf is made with a revolving variety of ingredients on a regular basis, and that we were currently eating the last of the Thanksgiving loaf, made from ground turkey, bell peppers, and onions. The meatloaf mac was pasted with a savory cheese blend of cheddar, parmesan, and an especially smoky jack, that simultaneously succeeded in warming me up and putting a damper on my grumpiness. While my friend Lucy went off to make a phone call, I selflessly helped myself to her jambalaya ($6), a dish spicy enough to thaw out a woolly mammoth. Loaded with andouile sausage, smoked chicken, okra, and shrimp, it's a melange of Cajun coziness and peppery power. Again, precision is not the name of the game here; if you're offended by the presence of whole garlic cloves hiding amidst the other ingredients, then this isn't your picnic.
The black-eyed pea fritters ($4), accompanied by a brawny green chili and cheese sauce, fills the requirements of a bread course (starchy, crusty), only with more bite and a dipping sauce that could prove habit forming. The collard greens ($3, there is a vegan option) was a little light on the pork, though the greens were impeccably cooked and packed plenty of vinegar kick.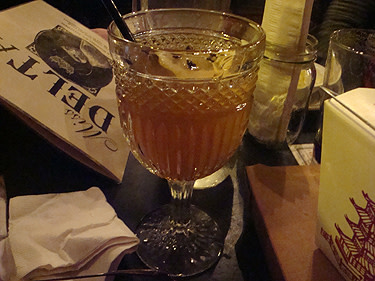 The draught beer selection is small and could use a few more local brands, but I can't gripe about Lagunitas IPA and Abita Turbodog, both worthy specimens at $3 a pint during Happy Hour. The cocktails are mostly standards with the name of a staff member affixed to it as a mark of quality assurance, such as Darla's Sensational Sidecar and Melissey's Best Manhattan. I opted for Arlene's Hottest Toddy ($7), a fortifying blend of Jim Beam, Barenjager honey liqueur, lemon and hot water. garnished with cinnamon and whole cloves. It made me smile for the first time in three days.
While hardcore foodies may not be delighted with Miss Delta's "camp stew" approach to meal prep, those of us in need of seasonal solace and a smiling waitress are well served. Don't forget that winter lasts for approximately 8 1/2 months in Portland—and that requires a lot of comforting.