Happy Hour
Happy Hour of the Week
Star Bar nails the details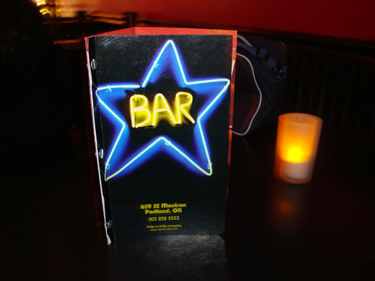 Take a long look at Star Bar. What do you see? Located on the corner of SE Morrison Street and Sixth Avenue, from the outside you get nothing, other than the blinking neon star that says, "BAR." (For those not hep enough to know such things, the design is based on artwork created for the highly influential 70s rock band, Big Star, thus informing nerdy rock fans that they are indeed welcome. Go and buy all of their records right now.)
Once inside, darkness reigns—as it should. A bar is one of those places where dim lighting is the rule, not the exception. Remember what a drag it was when the lights came up at the end of a school dance and you could actually see the person you were dancing with? Same principle. The primary decorative motif is the impressive collection of black velvet paintings that cover much of the wall space, though the dusky hanging lamps manage to retain a bit of the nautical bar ambiance of its former incarnation, Maiden in the Mist. So far, everything is as it should be. And that, in a nutshell, is what makes Happy Hour at Star Bar a worthwhile investment.
While there are no mind-blowingly innovative ideas at work, Star Bar staffers understand that it's the amenities, the attention to detail, that brings back the thirsty traveler. Happy Hour is from 4-7—all day Sunday—and includes a smart selection of reduced-price chow, $3 wells, and PBR for a buck-fifty a pint. Bonus: the well drinks get a heavy pour.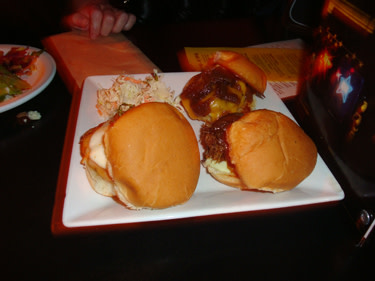 Last time I was there, the Star Bar's signature cocktails were all named after Big Star songs ("September Gurls," "Back of a Car", etc). This time around, Brit-punk pioneers the Buzzcocks were the featured group on the menu (another subtle nod to the rock-obsessed!) I had the Orgasm Addict ($8), a cheeky take on a sazerac with rye whiskey, pernod, and lemon zest. It was blended with an expert touch; the smoky rye granted plenty of room and respect from the supporting players. The draft beers number only a half-dozen, but the Double Mountain IRA ($4) is a guaranteed good time in a glass, and you won't catch me griping about $2 bottles of Mickey's.
The Happy Hour eats, again, are not remarkable in any way, other than being prepared by someone who understands quality ingredients (the manager tells us that he takes pains to make sure all of the food is locally sourced). There are three slider options, pork, beef patty, and vegetarian (white bean and potato) for $1.50 each. The pork is sweet with sneaky heat, and the veggie version comes alive with a helpful dab of stoneground mustard. I missed the actual presentation, but my friend Harold emailed me that his fried risotto cake ($3) was exceptional; cooked all the way through, creamy, and sporting a zippy dollop of tomato coulis. And when was the last time someone recommended a salad for Happy Hour? For $4, you get a munificent mess of greens, gorgonzola crumbles, dates, onions, candied walnuts, and bacon, tossed in a dazzling champagne vinaigrette. It's sweet, crunchy, acidic, with just a hint of the hot. Other items to consider are chili ($3), garlic bread ($3). and a plate of fries—either potato or yam—also for $3.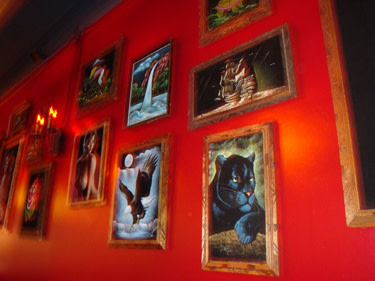 But let's not forget those extra touches that lets the customer know that they're in a bar where the staff is willing to go the extra mile. My brother's wayward elbow knocked over the last few swallows of his beer making a sad little puddle on the floor. Instead of flinging a filthy rag in his face and telling him to clean up that @#$%!* mess, the bartender came around and cheerfully soaked up the suds, even going so far as to refill the last third of the overturned pint. That guy gets my vote for pope! The jukebox is another perk, as it's full of esoteric artists like The Fall, Melvins, along with a decent assortment of punk and indie weirdos. Most importantly, the volume remains at a conversational level so that patrons needn't resort to pantomime or hastily scrawled notes in order to communicate. In such a dark room, I'm not sure either method would fly.