Happy Hour
Happy Hour: Bonfire Lounge
Warming up to the Bonfire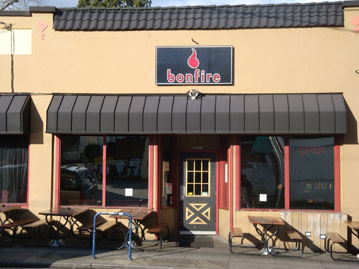 Yes, I am listening. When I ask friends, family, and weirdos I meet on the bus about Happy Hour, I take note of their responses—and I'm always asking. Seriously, I was considering "Where do you go? and "What do you like about it?" as facial tattoos in order to save time. It is because of my manic insistence on due diligence that I approached the Bonfire Lounge on SE Stark St with mixed feelings. It's definitely a popular spot—but not for everybody, apparently. "Oh, it's full of insufferable hipsters," was the litany that was repeated to me with the frequency of a Buddhist serenity chant.
The Bonfire Lounge is a hipster haven. This is not a matter of opinion. During my initial visit I couldn't help noticing that all six of the other customers were at least 20 years my junior and I was the only one present without a bike messenger bag. Not only that, but one of the chaps at the bar was reciting dialogue from the debut episode of Portlandia, a new TV show about—what else?—the quirky nature of Portland bohemian culture. Is it just me or is it getting awfully meta in here?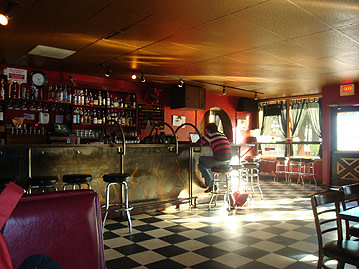 Even so, I didn't feel conspicuous or out of place, and the bartender/waitress was both sunny and swift. Besides, Happy Hour there is a whopping five hours long from 2-7 daily, with food and drink options aplenty. And anyone feeling alienated by the current face of youth culture would do well to spread out a little, since there are four distinct areas for your lollygagging pleasure. The picnic tables out front are usually occupied by animated small groups and loners with dogs or bike helmets. The bar area is for the FOTB (friends of the bartender) crowd, where conversation topics include current events (who hooked up with who) sports (what they did after hooking up), and the whether (whether or not they're still at it). There's also a slender dining nook and a game room with pool tables and a few video games. The tomato-soup walls keep the interior suitably dim, and the black-and-white checkered tile gives one the impression of being a sentient chess piece on the way to the restroom (especially after a few pints).
The Happy Hour items aren't especially brilliant or innovative, but a hungry fellow can do quite well here for under $5. The menu features a pair of zesty chicken verde tacos (jerked pork and ahi tuna versions also available for a little extra coin), hummus and pita, chicken or cheese quesadilla, gyros, and a perfectly serivceable hamburger for $3.50 apiece. The latter was reasonably sized and quite tasty (neither a slider nor a behemoth) in its own humble bar burger fashion. When I asked the waitress where the meat was sourced, she looked amused. "It's just basic beef," she explained, as if I was the winner of the World's Biggest Schmuck competition.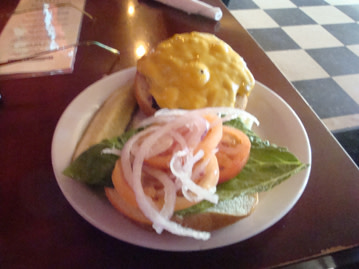 Beer is a buck off during Happy Hour which means $3 pints of local libations such as Alameda Wheat or Hopworks DOA strong ale, along with Trumer Pils, Terminal Gravity IPA, and Red Seal Ale. For more proletarian tastes, pints of Miller High Life are a mere $1.50. So for $5 you can have a burger and a pint. When the good Lord created lunch, this is what he had in mind. And if you're in the mood for a stronger spirit, there's usually a featured brand for a dollar off, in this case, it was Basil Hayden's bourbon, always a good call. I selected a Hoté Maté ($7) from the hot drink menu and was rewarded with a potent pick-me-up (yerba maté tea serves as the basis for this cocktail) that sports a shot of house-infused cinnamon and vanilla rum. All good except the vanilla. Taste-wise, it just didn't belong in such heady company.
If you're really and truly freaked out about bending an elbow with the young 'uns you can, of course, seek your pleasures elsewhere. But as a well-intentioned geezer myself, I tell you this: I will be back. The duration of the Happy Hour is generous and $3 pints are a big fat bargain. Besides, it's imperative in these uncertain times to keep the cross-generational lines of communication open. How else are we supposed to learn anything? Get over yourself and get over to Bonfire Lounge.