loose ends
Booze News
A roundup of potable press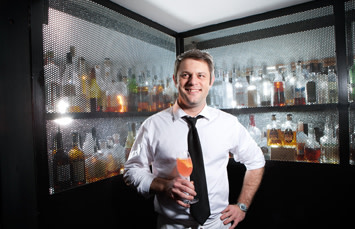 ITEM: Congratulations to Clyde Common mixologist Jeffrey Morganthaler, the winner in Portland Monthly's inaugural Best Bartender contest. The public has spoken and Morgenthaler, aka, the blogging bartender, outdistanced some stiff competition, including Mint's Lucy Brennan, who finished second, with Beaker and Flask bartender David Shenaut coming in third. Hats off also to our two top write-in candidates, Matt Stiles from Three Doors Down, and Jimmy Mak's mixing maestro J.D. Stubenberg. My liver says you're all winners, but the Bar Pilot has been a fan of Morgenthaler's swizzling skills for a few years.
ITEM: Ezra Johnson-Greenough over at the New School blog reports that Hopworks Brewing's Christian Ettinger is set to open the Bike Bar, a new venue on North Williams Street, just one building down from Lompoc's 5th Quadrant. Already the home of Pix Patisserie and Tasty & Sons, along with 5th Quadrant, North Williams shall now be known as Temptation Avenue. The Bike Bar is aiming for a mid-May opening.
ITEM Caught this story in the Seattle Post-Intelligencer about the coming of Sir Edwin's Blended Whisky in a can, a bold new product from Scottish Spirits Ltd. Christie Scott, the OLCC's media liaison, says she's heard of it, but points out that Sir Edwin hasn't come up for a listing review before the board yet. "I can't imagine the market for such a thing," she says. Oh come now! The 330 ml can contains about eight shots of whiskey, perfect for the the lunch-hour dipsomaniac or the busy tippler on the go. Of course, as a distilled beverage, it would be sold in liquor stores, so any hopes we had of skipping down to Plaid Pantry for a can of whiskey will have to wait.