Beer Bulletin
Choosing Sides
The tale of two pubs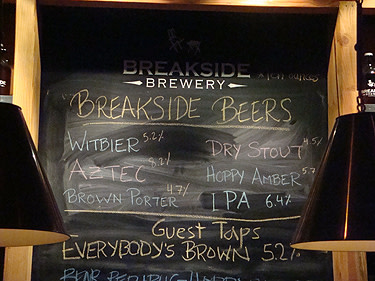 It's all in a night's work. I devoted Saturday evening to checking out a pair of newish brew pubs, Breakside Brewing on NE Dekum, as well as the freshly opened Burnside Brewing, and found them to be a study in contrasts. Me? I don't have a problem with contrasts—sure beats dull uniformity.
Breakside Brewery It's been open since the summer but I don't get over to that part of town as often as I'd like. Breakside is exactly as I imagined a contemporary neighborhood pub; a stylish, upmarket industrial space replete with loading dock garage doors and tables made from rustic barrels. It's dark and woody inside, and despite the presence of a TV tuned to ESPN, it's a sedate scene. There's an upstairs dining room, and a slightly more casual bar area, both of which emphasize the space between you and the other patrons. This is the spot for a romantic rendezvous for lovers who love beer more than a sophisticated list of the latest pinots.
I tried a pair of the house beers with mixed results. The dry stout compares favorably to a good ol' Guinness; the roasted barley gives it that smoky disposition in the mouth, but it's a relatively light beer at only 4.5 percent alcohol. To me, this is the sort of beer that proves an ideal accompaniment to a blustery night of threatening weather—a dark, distinctive brew that can ward off the damp and chill. The Aztec, an American strong ale, was less successful. The presence of malt and honey gave it plenty of body, but the menu description indicated that Thai chilies and habanero peppers were part of the mix. My mouth was all set for some sizzle that sadly didn't arrive. Sad face emoticon.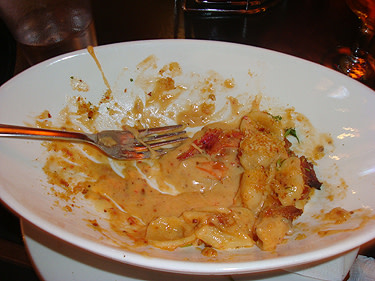 Not feeling ravenously hungry, I opted for the "carnivore" mac and cheese ($9). I'm not sure why I thought this starchy staple would be something I could casually graze on, but it turned out to be a seriously hefty serving. Loaded with Tillamook white cheddar, gruyere, parmesan, romano, and asiago cheeses, sun-dried Roma tomatoes, Andouille sausage and bacon, this dish proved to be my Waterloo. I should have boxed it up and taken it home, but the piping-hot, rich confluence of cheeses and pig parts was impossible to resist. I envisioned my leftovers in the morning, shrunken into a shivery and sticky state nestled in my fridge next to the Arm & Hammer, which inspired me to bravely soldier on till I was stuffed like a Christmas goose. Other items that teased my attention were the steak dip sandwich ($12) and the beer-braised short ribs ($15) which I spied being greedily devoured at nearby barrels (tables).
A final observation-slash-complaint. This joint needs better signage. On a dark night it's tough to spot through the gloom.
Burnside Brewing It's only been open two weeks, but this joint is jumping. The transition from Breakside's comparative tranquility to the loud, rowdy crowd all up in each others' grills at Burnside was like jumping into an icy stream after a night in a toasty feather bed. Suddenly, you're social! When I peeked and saw how many people were inside, I assumed it was closed for a private party. There were groups of folks standing, drinking, and chatting all over the 90 degree-angle room. On this night at least, there was no hope of being snugly sequestered in a zone of your own. The breathless waiter zipped over to our booth to announce that several items on the menu (cured meats are the specialty) were sold out. I was still groaning over my mac and cheese so I settled for a beer, though the Kobe burger cooked in duck fat ($10) was a strong persuader. But I would have died. Then where would we be?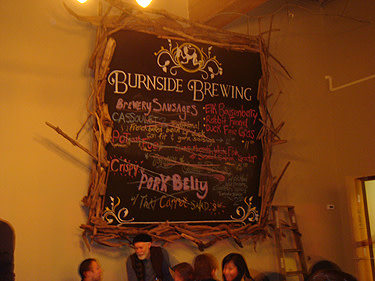 At the moment, Burnside only offers one house beer (there are more to follow), a very sturdy IPA that should satisfy anyone's cravings for hops. From the guest taps I selected a darn good kolsch from Double Mountain. The $5 price tag was a bitter pill to swallow, but at least management has the good taste to pour the beers into 20-ounce glasses, which greatly elongates one's visit. That's no accident.
So make note: Here we have two very different venues for your consideration. The Breakside beckons to small groups or parties of two that are kenn on each others' undivided attention. At Burnside, there's a party goin' on—and everyone's invited.