Mark your calendar
Drinking Dates
A few items for your quaffing calendar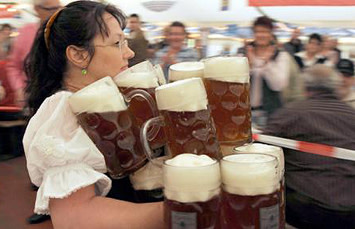 What's a brew believer to do? You've already dipped your beak in all the winter ales worth wrangling and the warm-weather beer festivals are still oceans of time away. Cheer up drinking buddies! Instead of trying to figure out a hangman's knot that will bear your weight, you would do well to make note of these upcoming events that should do wonders for restoring your hibernating happy face!
First Annual Scottish Ale Festival No need to stare forlornly at the horizon. The Cascade Brewing Barrel House is hosting a sudsy salute to Scottish Ales this Saturday from 3 to 11. Nine regional breweries, including Cascade, Lucky Lab, Fearless, Rock Bottom, Coalition, and Upright, will have specially brewed ales in the house for your sipping pleasure. There will be some Scottish sustenance available (haggis?), and Cascade brewmaster Ron Gansberg is bringing in his band Stone Porridge to provide some trad Scottish music. Join the cult of the kilt!
Hop & Vine Bottle Shop Opening I've sung the praises of this sophisticated North Portland saloon on several occasions, so I'm pleased as a weasel to announce its expansion into the space next door to serve as a bigger bottle shop to house Hop & Vine's well-curated collection of beer, wine, sake, and mead. Festivities take place Feb 5 from 3 to 7. Reps from Hopworks, Upright, Heater Allen, and Elysian will be on hand to pour some free tastings. And for the vino-centric, folks from Grochau Cellars, Winderlea Wines, Purple Hands, and Trust Cellars are likewise expected to be present. "All well and good, but I like cocktails!" you say to yourself. First of all, you should stop talking to yourself; your reputation is already on shaky ground. Secondly, at the stroke of 7, Metrovino mixologist Jacob Grier will take over with $5 drink specials featuring libations from House Spirits and Ransom Spirits. Name your poison—you're covered.
Van Havig Night! Havig, the outspoken brewmaster from the local chapter of Rock Bottom Brewing parted company with his corporate overlords earlier this month after 16 years. Havig is certainly one of the most knowledgeable brewers I've ever had the pleasure to chat with, and any regional brewery would count itself lucky to hire a man with his skills, taste, and wit. On Feb 8 at the new Grain & Gristle, some of his brewing comrades from Lompoc, Widmer, Barley Brown, and Ninkasi will pay tribute to Havig, with small-batch beers brewed in his honor.
KLCC Microbrew Festival Our sister city to the south gets in on the brewfest action on Feb 11-12 with a benefit blast to help keep Eugene's public radio station, KLCC, sounding off loud and proud. Some 50 breweries will be represented including local heroes like Ninkasi, Steelhead, Track Town, and Oakshire, not too mention one of my faves, little Wakonda Brewing from Florence.
Zwickelmania 3.0 For the third straight year, the Oregon Brewer's Guild offers the beer curious the chance to jump on a bus and tour some of the state's top breweries on Feb 19. Meet your brewing idols (OMG! OMG! OMG! John Harris is such a dreamboat!) and get a taste of what's cooking in the tank. There are tours taking place in Bend and Hood River, but here in Beervana attendees can swing by Alameda, Amnesia, Breakside, Bridgeport, and many more. And it's friggin' free!