Cheap Eats
Good Cheer at The Press Club
Wine and words, music and a meal, or coffee and a little quiet time in Southeast.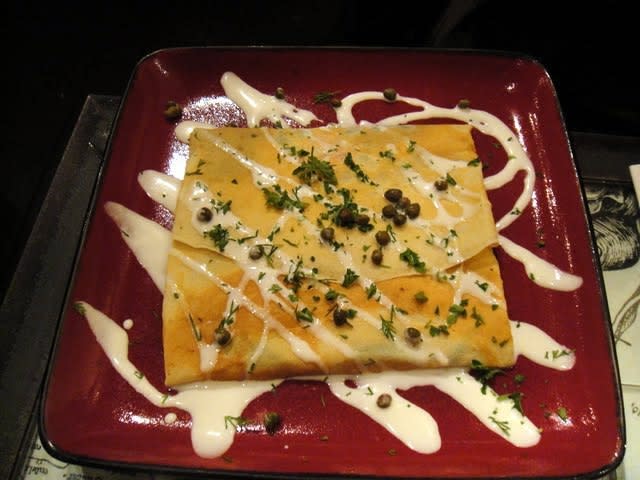 In an era in which magazines are folding left and right (and Borders is about to go bankrupt), it's refreshing to write two blog posts in a row about local establishments that promote good old-fashioned ink-and-paper reading. My post on Friday introduced Oui Presse and now the spotlight belongs to The Press Club, a Southeast haven for Stumptown, food, booze, wi-fi, local art, live music, and what their Facebook page bills as Southeast's "largest and most eclectic collection of magazines," estimated at 100-plus.
Located at 2621 SE Clinton St, it's a relaxed, comfortable place to take a date or laptop, or simply peruse the latest issue of Cooks Illustrated while having a bite to eat. The menu includes a wide range of salads, soups, snacks, and both sandwiches and crêpes named for notable authors. This isn't fare to inspire the next great American novel, but the hearty portions and affordable prices ($3.50-$10.50 max) could certainly sustain the struggling writer whose magnum opus is well on its way.
Many of the sandwiches include "interesting" ingredients like brie, prosciutto, fried eggs, and walnut pesto, and all are prepared on Pearl Bakery breads. A few days ago I had the E.B. White—two thick, gooey triangles of soft focaccia oozing with provolone, mozzarella, parmesan, asiago, romano cheese, and a subtle kick of chili-infused oil. Yes, maybe it was just a glorified grilled cheese, but four days later it's that sandwich I'm craving rather than anything I had during a gorgeous dinner at Castagna the next night. My dining partner had the Raymond Carver crêpe and noted that the pancake itself was cooked through but still soft and delicate, and the filling was well-balanced—a not-so-simple achievement when it comes to smoked salmon.
For those in need of liquid succor, The Press Club has a hefty wine and beer list, and recently acquired a full liquor license so that they can now serve spirits.
They're also rather generous with the specials: Happy Hour, Mon-Fri, 3-6pm; Happy Mondays ($5 house cocktails), 6-11pm; Half-priced glass pours on Tuesdays, 6-11pm; $5 Bloody Marys on Sundays, 5-11pm; and The Liquid Lunch—two cocktails and a cup of soup for $12, Mon-Fri, noon-3pm.
Rainy climate aside, Bukowski would most certainly approve.