Eat This Now
The Best Cubano, Ever. Really.
Bunk Sandwiches' pork belly cubano just might change your life.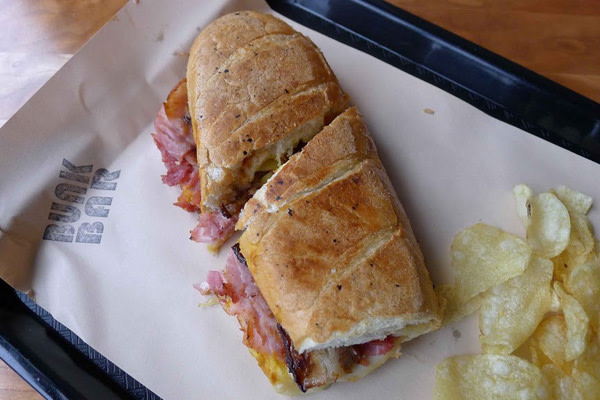 When is a classic something more than tradition and the personal poetry of taste memory? When it's pushed to something greater—still recognizable but with a fresh stamp, a reworking that pushes texture in unexpected ways or adds a taste to record in the mouth's hall of fame.
That's the only way to describe the Pork Belly Cubano, a devilish spin on the Cuban workingman's ham and cheese, at Bunk Sandwiches and Bunk Bar.
The sandwich got its 15-minutes of food-porn fame on the Food Channel's "The Best Thing I Ever Ate" this past Sunday. Dimpled, bearded host Chris Cosentino boisterously called it "way, way better" than a regular Cubano. Even by hyped-up Food Channel standards, he's not exaggerating.
At first glance, Bunk's version looks like a straight-up reprisal of the Cuban working man's ham and cheese sandwich. A French roll (alas, no Cuban bread in these parts) layered—according to the rules—with regular mustard, two kinds of meat (pork and ham), Swiss cheese, and pickles, all grilled then cut horizontally.
So when do sandwich-meisters Tommy Habetz and Nick Wood detour into the record books? With pork belly instead of the usual roast pork. After a two-day bath in a garlicky, peppery marinade, the belly is slathered with molasses then slow roasted and cooled overnight. The rich fat in the belly, says Habetz, bastes the meat and transforms it into a whole new animal. That's before the sandwich-making even begins.
A final ride in a panini press seals the deal, as tender ham, pickle crunch, mustard zing and that flavor-amped pork belly—just fuming with juicy goodness and smoky, caramel undertones—are beautifully flattened for a full-on crispy finish.
Like all Bunk sandwiches, the "best thing you've ever eaten" gets the humble delivery treatment—on a paper-lined snack tray with a pile of good potato chips. Still, it's a steal for $8.
Catch a repeat of the show on the Food Network, Jan 28 at 7:30 p.m. and Jan 29 at 10:30 p.m.