Happy Hour
Happy Hour of the Week: Fenouil
Happy hour food that will actually make you forget about your wine, even when it's a brilliantly matched glass of full, crisp, spicy Daedalus Gruner Veltliner.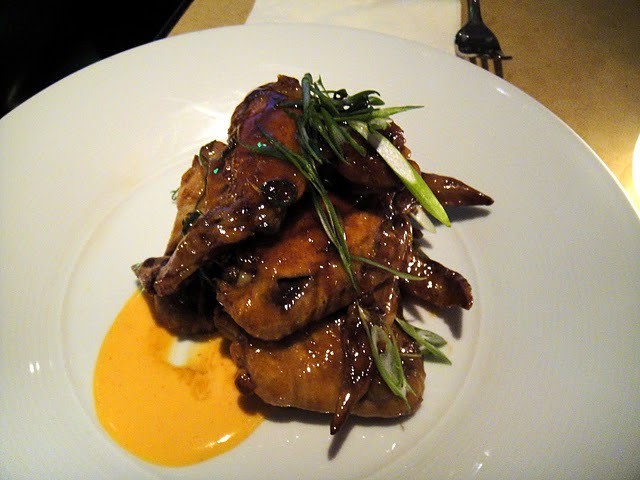 In its previous cuisine incarnation, Fenouil —a glamorous two-tier dining room resplendent in cream-colored stone, polished wood, soft chocolate fabrics, and a crackling fireplace, with a wall of gleaming glass offering views of the Pearl District's Jamison Square—fancied itself an "urban French brasserie." I could argue that title simply based on the fact that the place is enormous and there is space between the tables; however, the menu itself began to shift toward contemporary Pacific Northwest fare anyway, when chef Jake Martin (formerly of the Carlyle) came on board in early 2010.
If, in recent months, you have been reluctant to check out what Mr. Martin is up to due to the prices or the posh décor, your time has come. Fenouil is now offering a new recession-friendly Small Plates menu, available in the cozy lounge, and you can get those dishes for a whopping 50-percent off during Happy Hour from 4-6pm, seven nights a week.
Yesterday I popped into try it and the one thing I keep wanting to say is "Well, I'll be!" This is one killer happy hour. Not only is a glass of white, red, or sparkling wine du jour only $5, the small plates menu has great range (e.g. ahi tuna crudo with antique apples, shoyu, and white miso, or pate "en brioche" with dijon vinaigrette, chicory salad, and radish), and the happy hour prices are stellar—I mean, how often can you fill your belly in fine dining for only $5.50???
That's the price of the house-ground burger. Paired with a mass of shoestring hand-cut fries, you get a hefty patty cooked to succulent perfection, topped with white cheddar, pickled onion, and bacon, and served on an exquisite Ken's Artisan Bakery bun—genuinely soft in the middle and just a touch crispy on the outside thanks to a wash of butter. I think this burger deserves a shot at this year's "best of" list.
Another personal favorite: The ever-so-tender, sticky, spicy, and not-too-sweet confit chicken wings ($6). Falling-off-the-bone, you could eat them with a fork or simply get your hands messy if you think pretension should take a backseat to pleasure.
Vegetarians can snack on an insanely decadent, creamy caramelized onion tart ($5.50) with whipped brie and a bitter herb salad, or the farmstead and artisan cheeses ($6, selected by Steve Jones of the Cheese Bar on SE Belmont) plated with a tart, vinegary winter fruit jam, brown bread, and marcona almonds drizzled with honey.
This was the kind of Happy Hour that made me want to go back and pay full price just to try the dinner menu—a very, very, very pleasant surprise.