Cheap Eats
Kalé's Bowls of Japanese-Style Comfort
Rice, curry, beef, and cheddar cheese combine for cheap thrills in the Southwest Hills.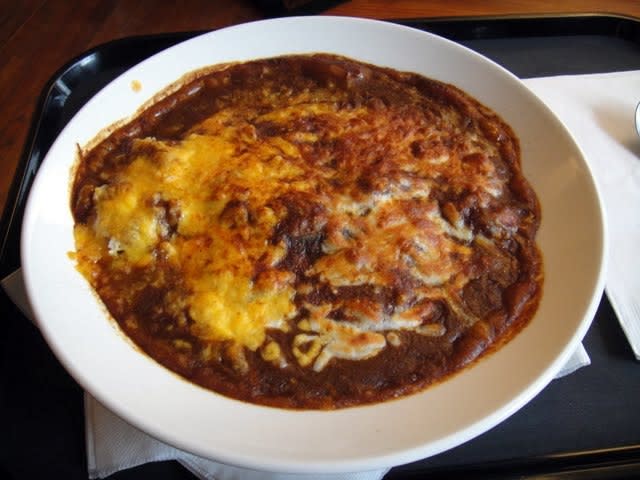 Update: Kalé plans to relocate to a "more accessible" TBD location at the end of March, but they may "pause our operation for a short period of time" if they don't find the optimum location by that time. But fear not rice-and-weird-but-delicious-sauce lovers; the owners assure fans that they will not be shutting down the operation for good.
Up in the Southwest Hills, at the beginning of that strip of mysterious establishments that make up Goose Hollow, you'll find a coffee shop called Kalé that, in addition to serving polish sausage bagels, quiche, empanadas, and muffins, does a bang-up job making a popular Japanese comfort food referred to as "the dish." A fusion curry-stew-ish thing, the dish isn't pretty, but, oh my, is it tasty, and it really sticks to your ribs.
If you want the quintessential Kalé experience, get the Kalé Rice with Beef ($6.95), a mound of white rice served alongside the rich, creamy sauce made from ground onions, carrots, celery, tomatoes, garlic, chutney, and spices like turmeric and cumin, all cooked together for two days with tender chunks of beef. According to the menu, this is "the definition of Kalé rice" and you should order it.
However, if you are of the flesh-free persuasion, there's always the Kalé Rice Original ($6.45), which has the same sauce cooked for two days, sans meat (it tastes more strongly of the vegetables and has a touch more kick), or the Kalé Doria ($7.45)—a bowl of rice covered with the sauce, topped with a mix of cheddar and mozzarella, and baked until the dairy is brown and bubbling and the sauce is crisp around the edges. I know it doesn't sound as delicious or addictive as, say, a burger or pizza, but it is—I kept burning my mouth because my dish was still boiling and I refused to stop eating.
The menu also offers various "sidekicks" for your meal, including Fukujin Zuke pickles made specifically for Kale dishes, a hard-boiled egg, or spinach. But I was told that the dish was "designed to be complete by itself," so I left it alone and didn't feel like I was missing anything important.
While you're dining in the relaxing café space with its wood floors and earth-tone walls, read up on the truly fascinating history of the dish in one of the brochures you can get at the front counter—the Japanese actually got the dish from the English in the 1800s and it has intermittently been banned or obsessed over ever since. The dish is here in Portland courtesy of owner Makoto Yoshino, who emigrated from Japan and became a citizen in 2008. When he couldn't find a restaurant that replicated the comfort foods of his homeland, he decided to fill the gap himself.
And I'd say he plugged it perfectly.
Hours: Mon-Sat, 11am-2pm & 6-9:30pm
Address: 1628 SW Jefferson St.