Introducing
The Buzz: Oui Presse
Southeast's latest coffee shop offers Stumptown, scrumptious pastries, and rad magazines.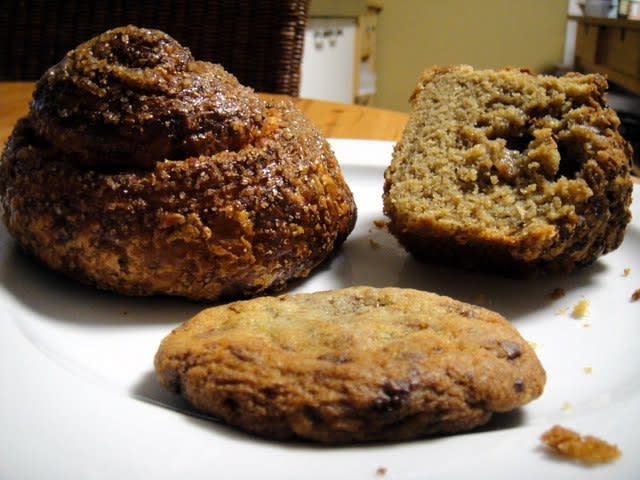 A French newsstand-inspired coffee shop, Oui Presse, opened for business two days before Christmas at 1740 SE Hawthorne Blvd, and is now peddling Stumptown, pastries, magazines, and a carefully-curated selection of household goodies, ranging from Pigeon Toe Ceramics to locally made canvas dopp kits.
A charming, airy space with plentiful seating and minimalist décor, the sip, snack, and read concept is the vision of proprietress Shawna McKeown, a graphic designer and former associate publisher of the Willamette Week (she left this past summer). McKeown wanted to offer magazines because they provide "affordable inspiration." The shop currently carries about 50 titles, including hard to come by rags like Anthology and The Art of Eating, as well as fan favorites like Dwell, the New Yorker, and Seventeen, but the eventual goal is to bump that number up to 150.
In the nibbles category, Oui Presse presents a small selection of pastries from Ken's Artisan Bakery, including the delectable orange zest-infused morning buns, crusted with rock sugar. A self-proclaimed toast fanatic, McKeown also plates up slices of Ken's blonde country boule with unsalted butter and local jam. The bakery bigwig also happens to be McKeown's boyfriend, but she's quick to add that she would serve his bread even if they weren't dating and I don't think there are many people in Portland who would belabor that point.
That said, McKeown herself is no slouch with an oven. Her chocolate chip cookies are buttery disks of soft, sweet goodness with an ever-so-slight slight caramel crispness at first bite. And the coffee cake is divine—not sweet but loaded with spice, butter, and sour cream, it's super moist and boasts a crumbly topping peppered with toasted hazelnuts. Yum!!!
Bonjour, Oui Presse. It's good to meet you.