Year-End List
Magic Moments 2010
A few things that made me love my job this year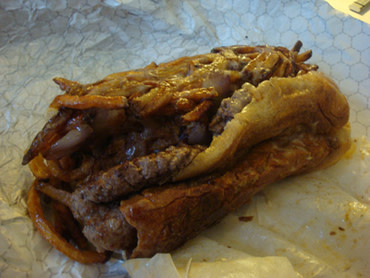 Gads, is it 2011 already? My, how quickly the sands of time swirl away during the pursuit of Happy Hour excellence and bar bounty. Please understand that I've had to chew my way through some ghastly grub (the memory of Ash Street Saloon's evil grilled-cheese sandwich still causes me to wake up screaming) and sample some really underwhelming cocktails in order to bring you, my drinking buddies, the latest intelligence from the front lines. But let's accentuate the positive, shall we? Here then is a list of particularly noteworthy menu moments from this past year.
Big-Ass Sandwiches A Big-Ass Sandwich is like telling your stomach, "Here! Suck on this!" This is not a food cart that you can hit on a daily basis. The sandwiches are just too extreme. But if you're having one of those days and you can feel a gnawing hunger in your gut that cries out in primordial fashion to be satisfied, you can do no better.
Cafe Nell The best service in town. Super-efficient waiters who appear as if summoned from a lamp.
Cascade Barrelhouse I adore Ron Gansberg's sour beers and I greatly look forward to exploring their flavor mystique with an assortment of food pairings.
Hawthorne Hophouse A welcome addition to my neighborhood with exceptional pub grub (the Red Dragon Burger, with ham, spicy mustard, and cheddar atop Angus beef is a new addiction) and a rotating beer selection that pays loving tribute to the region. On Sundays, local brews are only $3!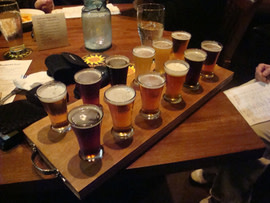 Hop & Vine Really, this modest little shop offers the best of everything. A well-curated wine list, terrific rotating taps, intriguing cocktails, and a sturdy food menu, for starters, but the atmosphere is congenial and cozy. And if you want to stalk local beer celebrities chances are they're hanging out there—right now!
Jade Lounge's Banana Fritters On Tuesdays and Thursdays, Jade Lounge offers a cunning array of $3 plates all day. In this case I recommend dessert first. For a fleeting instant, the delicate cornmeal shell rolled in cinnamon, bursting with gooey banana splendor will bring to mind delightful domestic scenes from childhood. Perhaps not yours, but somebody's.
Metrovino's Seafood Chowder: True, I first encountered this sensational soup in 2009, but I return periodically to slurp of its goodness and fortify my ravaged soul. Fatty smoked bacon adrift in a sea of oysters, clams, tuna, and halibut for $5. Why aren't you eating it now?
Miho Izakaya For sheer menu audacity, I have to give it up for the little Japanese pub on N Interstate. The ingredients are always cracking fresh, and the 25 or so small-plate offerings ($2-10) are not only uniformly tasty, but extremely interesting to boot. The slow-cooked pork, spicy noodles, and beguiling fish entrees will reel you in and turn you into a homing pigeon for this coop.
Three Doors Down Bartender Matt Stiles is an unsung hero in my book. He's never served me a drink that was anything less than spectacular. And the quality of the Happy Hour chow, from the habit-forming Tuscan white bean spread to the vodka sausage penne, is incomparable. Happy Hour is available all night on Sundays and Tue-Thur.
Upright Brewing Alex Ganum's bold and yeasty farmhouse ales provided a welcome respite from the hops arms race.
I'm as human as the next gink and I can't be everywhere at once. So by all means, if I've missed something that deserves a round of applause, please speak up!