Sad News
Rest in Peace: Don Younger
Tireless publican and craft beer supporter passes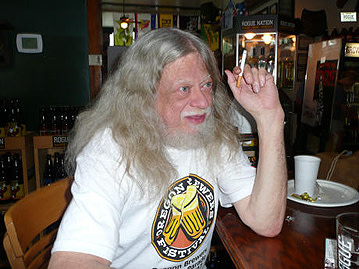 A true legend of the Portland craft beer community, Don Younger, passed away shortly after midnight this morning at the age of 68. According to Oregonian beer writer John Foyston, his passing was due to "multiple health problems triggered by slipping and breaking a shoulder last week."
I first met Don in the summer of 2006 when I was working on my first big beer story for Portland Monthly. We hung out at the Horse Brass on a Tuesday afternoon and had a few pints. I don't think I ever got around to asking him any questions, because the first thing he said was, "I'll talk, you listen." This turned out to be one of the best pieces of journalistic advice I ever received. He was gruff, hilarious, and absolutely tireless in his dedication to Oregon craft beer. As a veteran publican, he helped many of the local beer pioneers gain footing in Portland by stocking their earliest efforts. It's safe to say that without his support our beer industry would not be the envied model of innovation and opportunity it is today. His grit, wisdom, and spirit will be sorely missed.
Here's a reprinting of a short piece I wrote about Don for our July 2006 Summer Beer feature.
The first bar Don Younger ever set foot in was the Howdy Doody in Gresham. He was 17, he looked 13, and no one seemed to care. "I ordered a Blitz," he remembers. And it was love at first taste. In March 1967 he took over the operation of his first tavern, the Mad Hatter on SE Milwaukie Ave—now known as the Bear Paw Inn—and since then has owned or co-owned "14 or 15" places around town, including the (now defunct) Rose & Raindrop, three New Old Lompoc locations and his flagship operation, the Horse Brass on SE Belmont St, frequently a meeting spot for those in the beer business.
Speaking of beer business, that's exactly what Younger, who describes himself as a "drinking man" rather than a businessman, has on his mind at the moment. "Wine gets everything it wants," he says. "And what do you see about beer? Bubkes. But we're just as important. We're Oregon jobs, we're Oregon money, we're using Oregon hops. That's my mission right now."
Younger is referring to his part in the promotion of Oregon Craft Beer Month (that would be July), a grassroots movement that encourages Oregonians to reach for local brews rather than out-of-state options. It's also a reminder to area brewers—especially the big boys—to make use of those regional ingredients. "Some of these brewers have gotten too big for their britches," Younger growls. "You're supposed to leave the dance with the one who brought you." And Don Younger's been to his share of dances.
"He's a great character," Mike McMenamin says. "He's the classic publican."