Beer Bulletin
Black Gold
Full Sail limited release is worth the wait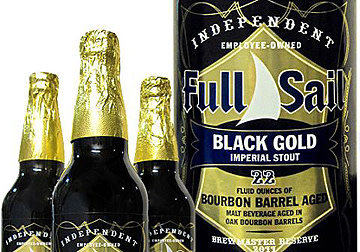 It was during the fall of 2007 that Full Sail brewing genius John Harris bestowed upon me a heavenly gift, a sample of his Black Gold Bourbon-Barrel Imperial Stout that had been aging in the bottle for more than a year. It was (and remains) the best stout I've ever had. Smoky, silken, and as opulent as a Turkish rug, it was both boundless in taste and surprisingly svelte in body; a brew masterpiece fit for a visiting potentate.
The reason I'm bringing this up now is because Full Sail will be releasing its latest version of Black Gold (ABV 11.4%, IBU 37.5) today at 5 p.m. in two locations; the Full Sail Riverfront and the Full Sail Tasting Room and Pub in Hood River. It will also be available in 22 ounce bottles later this week at New Seasons, Zupans, Fred Meyer, and Whole Foods, as well as artisan bottle shops like Belmont Market and Beermongers. But if history is any indication, it will be flying off the shelves with near Bieber intensity.
Black Gold presents beer fanatics with a most painful choice: drink it now, or tuck it away in the vault so it can continue its flavor evolution. Better stockpile enough to do both. Seriously—this is the stuff of dreams, a stout worthy of cult adoration.