Happy Hour
Happy Hour of the Week
Green Dragon has it all—but could be better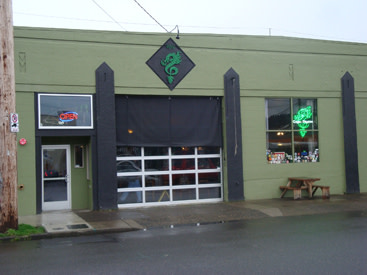 Happy Hour ain't rocket science. All you need are a few simple ingredients, namely a cheap, but tasty food menu, and some kind of token drink discount. The Green Dragon (928 SE Ninth Ave), a Southeast industrial-decked pub that operates like Batteries Plus for beer, almost nails it.
My afternoon spent at this Rogue Brewing satellite operation was surprisingly pleasant. I'd heard nothing but tales of terror about an inattentive waitstaff, and this turned out not to be the case at all. Our waitress was prompt as microwave popcorn. She speedily delivered food and drinks with a smile and even made a serviceable off-the-cuff joke. (Me: What are these fries seasoned with? Her: Considering how many I eat, probably crack.) OK, so it isn't Last Comic Standing. But they were hella busy.
The Green Dragon's Happy Hour is 4-6 daily and 9-close Sun–Wed; 10-close Thu–Sat. The food menu offers an array of savory snacks ranging from $3-5, including a cone of Belgian-style fries ($3) that disappear faster than Justin Bieber heading to the limo apres concert. Seasoned with a salt, parsley, pepper combination (and probably some mysterious secret ingredient—crack?) the fries have a very slight herbal sweetness that adds a winning complexity to the most basic of Happy Hour sides. Anyway, my chums and I powered through two orders. Another dish that got double ordered was the bratwurst bites ($4) with whole grain mustard. I was expecting a pedestrian slab of sausage diced into poker chips. What arrived at the table was a basket of individually grilled brat slices (each crispy with a little char) that were begging on hands and knees to be plunged into the vibrantly tangy grain mustard. We obliged. On the down side, there was nothing to recommend the pulled pork slider ($4). The meat was dry and flavorless, with buns by Wonder. Next time we'll jump on the beer-battered cod and fries ($5). There was a dude behind me chowing down on an order with such noisy abandon, that we almost "shssshed" him.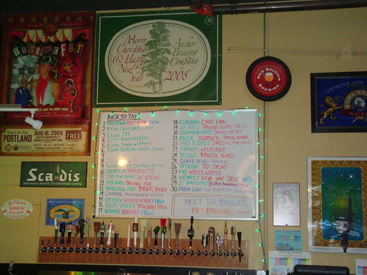 Of course, any trip to Green Dragon is going to be primarily about the beer and there's 50 taps ($4.75-6) to choose from, with a fresh menu appearing daily. I decided to try the Chamomellow Ale, a Rogue recipe that's now being produced under Green Dragon's in-house Buckman Village Brewing label. With chamomile as a primary ingredient, what you get is a floral golden ale with a sneaky, spicy pumpkin pie flavor nestled into the mix. It's crisp and invigorating, and proved to be a sufficient motivator to inspire a return visit on my behalf. Among the dozens of guest taps, I can recommend the rich and malty Anchor Bock and the devastating North Coast Old Rasputin, a superb roasty-toasty stout that packs a 9 percent alcohol punch. The beer selection is a true embarrassment of riches.
Here's my only beef: With 50 beers on tap, couldn't one or two be featured as a "special" during Happy Hour? Maybe $3.50 a pint? Please? Come on lads, let's make a good thing even better.