Eat This Now
Grüner Climbs New Mountains
Expansion plans, a vegetarian-forward mushroom burger, and an alpine feast to benefit a local non-profit keep Grüner in the food spotlight.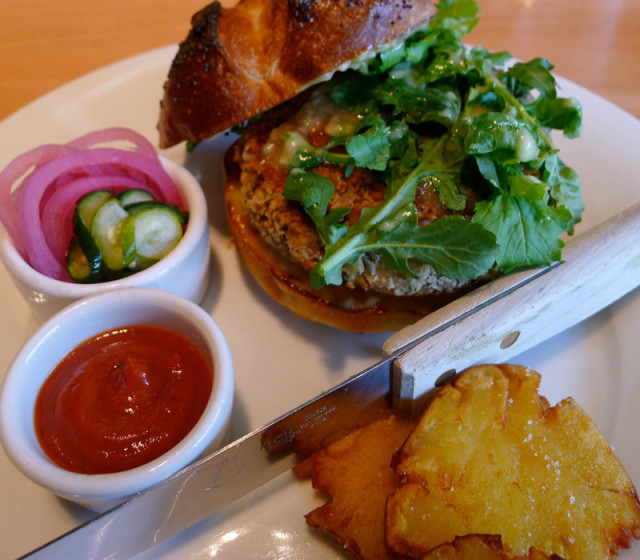 Wild over Grüner's Wild Mushroom Nut Burger
Grüner just keeps luring us back with irresistible comforts. Up recently: a wild mushroom nut burger that gives vegetarians bragging rights in a restaurant serving the city's best burger. The patty—a crisp-grilled, sink-your-teeth-in mash of beans, wild mushrooms, and ground hazelnuts—has a deep, satisfying savor missing from the typical meatless effort. Not to mention all the extras that make the Grüner soar: handcrafted everything, from the magnificent potato bun to the ketchup, the pickles, and the aioli brushed on top. All this, plus Israel's addictive "smashed potatoes," beautifully salted and fried with skins on the bottom. Tab: $11, and well worth it.
A New Bar in the Works
Food trucks aren't the only places thinking small. Some of Portland's top talents are seizing teeny spaces for intimate projects fueled by good food, personal style and not least, booze. Get ready for micro-eating.
Thai food guru Andy Ricker, for one, already has his hammers out at Pok Pok Noi (1460 NE Prescott St), a baby Pok Pok with game hens and drinking vinegars. Now we've learned that Grüner's Christopher Israel plans to open a 35-seat bar this spring at 1215 SW Alder St, just around the corner from Israel's alpine food gem at 527 SW 12th, still abuzz since landing the no. 5 spot on GQ magazine's 10 Best New Restaurants in America list last month. Expect a cave-like grotto with candlelight and snifters of brandy. But instead of Grüner's dress-up vibe and Middle Europa obsession, the focus will be local drinks, local cheeses, local charcuterie.
The 700-square foot space is currently the office for ChefStable, a forward-thinking restaurant company run by Israel's partner, Kurt Huffman. A new name is in the works. Stay tuned.
Eat Like a Mountain Man for a Good Cause
No plans on Super Bowl Sunday? Tackle Grüner's nine-course, off-the-menu alpine feast to benefit heroic modern dance presenters White Bird. The non-profit group brings out the best national and international troupes while providing a big stage—and financial support—for top local choreographers. Israel will head up a team of local food luminaries, including Cathy Whims (Nostrana), Robert Reynolds (Chefs Studio), and pastry chef Kristen Murray (Paley's Place) cooking for the cause. Cost is $250 ($150 tax deductible). Call 503-245-1600, ext. 201 for reservations.