Mark your calendar
More Drinking Dates
Everything from soup to so long, Tommy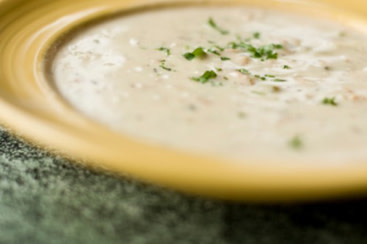 No rest for the wicked liver.
Lompoc Brewing's Annual Chowder Challenge Now that's good chowder! If you're a seafood fan with a craving for clams, you'll want to pipe yourself over to the Fifth Quadrant on Saturday to help determine the People's Choice Winner at the Fifth Annual Lompoc Brewing Chowder Challenge. The festivities actually commence on Friday night with a shrimp boil between 6-9, where for $12 a plate you can load up on andouille sausage, shrimp, spuds, corn, and all sorts of yummy sides. From noon-5 on Saturday, 14 pubs and eateries, including Green Dragon, Hopworks, Laurelwood, and EAT: An Oyster Bar, will ladle up their finest chowder in order to impress not only you, the public, but an esteemed panel of guest judges including Lisa Morrison (aka, the Beer Goddess), the Portland Tribune's Bread & Brew columnist Anne Marie DiStefano (aka, the Whiskey Widow), and yours truly (aka, the Bar Pilot, aka, the Handsome Lad). My credentials? I grew up on the coast, my family owns a fishing boat, and I ate clam chowder at least once a week from 1965-80. Of course, when you're at one of the Lompoc locales, a river of beautiful beer is only a waitress away.
Hillsdale Brewfest If you've still got some room after stuffing yourself with chowder, the Hillsdale Brewery and Pub is the site of the annual Hillsdale Brewfest, in which 20 McMenamins brewers will square off to see which of them will represent the company at July's Oregon Brewer's Festival. Again, your votes will decide the winner. It's just like American Idol except with lots of beer and no crappy singers—a 100 percent improvement IMHO.
Lucky Lab's Barley Wine and Big Beer Festival There's no room for Coors Light at this annual skull-smashing soiree. Some 40 brews—strong ales, old ales, vinter varmers, barley wines, and other potent potables—will be on tap at the Lucky Lab Beer Hall on NW Quimby, Mar 4-5. You will need to purchase a glass and tokens—not to mention a taxi.
Bon Voyage, Tommy One of Portland's best bartenders, Tommy Klus, was recently awarded a grant from Tales of the Cocktail's apprentice foundation to study scotch-making at the Bruichladdich distillery in Islay, Scotland. To make sure young Tommy has a bit of walking around money in the U.K., his pals at the Teardrop Lounge are throwing a fundraiser on his behalf, Sunday Mar 6 at 6. A roster of all-star bartenders will prepare an enchanting array of cruise-themed cocktails (Grog, Quarter-decks, among others). If you're wonder about the dress code, head bartender Daniel Shoemaker suggests "luxury liner during Prohibition." Hmmm. I'll have to get the sherry stains out of my camel's hair coat, but it shouldn't be a problem.