Eat Here Now
The Big Egg Cracks Open Again
After a winter food-cart hiatus, Portland's fried-egg sandwich sanctuary returns with new ideas and cult classics.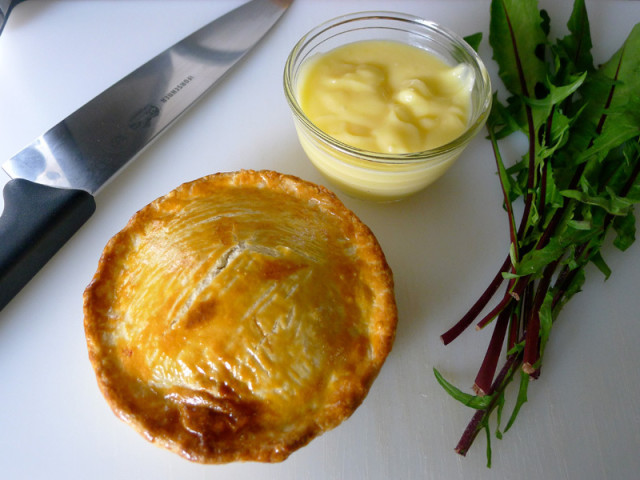 On Monday, a wintery perfume of lemon curd, butter, and smoky bacon wafted out of the shiny yolk-colored door like an olfactory tulip—a sign of hope and sunnier days ahead for Portland's food-cart scene. After a two-month hiatus to bypass winter's cruel toll, the Big Egg's street-side temple to fried-egg sandwiches blooms again today at the corner of N Mississippi Ave & Skidmore St.
The short break allowed owners Elizabeth D. Moreland and Gail Buchanan to formulate new ideas, including a house-made vegetarian sausage sporting chickpeas, carrots, and cumin and new seasonal sandwiches, kicking off with a cushion of bacon, dandelion greens, and aged white Tillamook cheddar holding rosemary-scented eggs and a schmear of the kitchen's luscious citrus preserves. Meanwhile, they're test-driving a new line of savory pies—double-crusted, quiche-like lovelies crowned with lemon curd.
But breathe free: the cult classics are back. That includes the Monte Cristo on cardamom-shaved French toast with pepper-popping maple syrup, and the Arbor Lodge, a tower of thick-cut grilled portobellos and slow-cooked balsamic onions holding down an over-easy egg on toasty brioche lacquered with roasted garlic aioli. Not to mention the Big Egg's biggest seller, the majestically bulging Breakfast Wrap, with roasted potato chunks, fresh-roasted poblano chiles, and warm rivers of tangy-creamy yogurt lime sauce buried in its deep savory depths.
Don't think short-order cart. Each sandwich is warm, beautifully burnished, and assembled like a masterpiece just for you. The process takes 20-35 minutes, depending on the wait. It seems that the drive for sandwich perfection—in a tiny kitchen, seasoning eggs to order with the likes of orange mint or nasturtium flowers and slathering bread with homemade condiments to partner with thick-cut bacon and smoky ham—takes some time. The wise place their order and stroll the shop-friendly neighborhood—or head down Mississippi the Fresh Pot for coffee.
Portland's winter, the season of sideways rain and grey skies, can be tough on street vendors. Customer drop-offs can be punishing, even for a cart with a rabid following like the Big Egg's. For Moreland and Buchanan, the break was a necessary sanity reboot—their first since opening in the fall of 2009. "We recharged, and realized we wanted to push even further—to be as homemade and local as possible," says Buchanan. "No more Morningstar patty. No more high fructose sodas. No more corporate anything. No reason to be selling those products."
This is a small place thinking big. See you in line.
Open Wednesday¬–Sunday, 8 a.m.–2 p.m. (closed Monday and Tuesday)