Happy Hour
Happy Hour Report
Underwhelmed at Breken Kitchen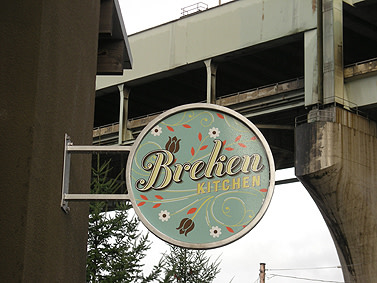 The name has changed but they're still cooking and pouring up a storm. Breken Kitchen, formerly Sydney's, is a comfy coffee house situated at the foot of the Fremont Bridge on the northernmost fringe of the Pearl District. What you'll find inside isn't a whole lot different from the dozens of other java joints scattered throughout Portland—high ceilings, wood floors, brick walls spotted with unremarkable art, a few pods with newspaper-strewn sofas, and the thick-brimmed glasses of customers peering out from behind steaming mugs and clattering laptops.
Needless to say, this isn't an atmosphere that screams Happy Hour excitement, but I was in the neighborhood and feeling a bit peckish—so what the heck?
Breakfast and lunch are peak hours here as paper shufflers from surrounding hives fuel up with bagels, fancy-pants sandwiches (like Roasted Portabella and Onion Panini with Juniper Grove Goat Cheese and Parsley Pesto, $8.95), soups, salads, and other reasonably light/healthy fare, while partaking of a sizable selection of stimulating hot bevvies (coffee, tea, chai).
In an effort to keep a few customers lingering during the slower afternoon hours, Breken Kitchen also does Happy Hour Wed-Fri from 3-5.
Hunger can be treated with lasagna ($7), bread and olive oil ($2), soup of the day ($3.50 for a cup of potato or pork pozole), and salad ($3). There are decent beers to be had (Lagunitas, Guinness, Black Butte Porter, and Chimay) but the only beer special was 50 cents off a PBR tall boy, which was not something I was in the mood for while flying solo at 4 in the afternoon. According to their website, there are four whites and three reds on the HH menu that range from $4-8 but it was all full price during my visit. Guess they thought I looked gullible. Speaking of the website, most of the prices listed on its Happy Hour menu are completely wrong. Sorry, we must deduct points for that.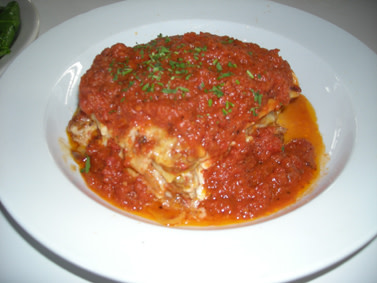 I came with an appetite, so I ordered the lasagna along with a salad. The latter wasn't particularly exciting—some mixed greens tossed with a vinaigrette, but at least there was plenty of it. The lasagna arrived as a hefty square about the size of CD cover, layered with hunks of ground beef and onion slices, topped with a generous coat of marinara. Solid and serviceable but Pazzo's needn't worry about the competition. Note to management: It's really a bit of a stretch to refer to lasagna, green salad, and a PBR as Happy Hour. Maybe "Other Food Hour?"
To summarize: If you're looking for a Happy Hour in the traditional sense (i.e. a lively lounge to meet for beers and wings after work or get your night started by downing as many drinks as possible before they raise the price), this is not the place to do it. Breken Kitchen is a laid-back neighborhood nosh pit for the cubicle crowd or parents picking their kids up from the neighboring Montessori school. There's nothing here that warrants a special trip. If you do decide to venture forth, don't forget to pack your laptop; your profile ain't going to update itself.