Holiday Hedonism
Irish Itinerary
St Paddy's Day diversions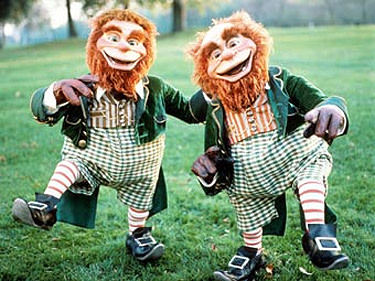 Begorrah! St. Patrick's Day is nigh upon us. As you know, other than New Year's Eve, there is no holiday that's so traditionally linked to the conspicuous consumption of alcohol, and as always, we have a vested interested in helping you maximize your McMerrymaking. Be advised it's not all booze and blarney. You can also stuff your face with corned beef and cabbage or kick up your heels to some jigs and reels. Or watch a really crappy horror movie with Jennifer Aniston.
Biddy McGraw's
6000 NE Glisan St.
Saints preserve us! Irish bands are playing all day and the corned beef and Guinness will rain down from the heavens.
Crystal Ballroom
1332 W Burnside St
Is it whiskey ye be craving? For $40 you can sample several varieties of Bushmills and tuck into a five-course Irish feast of sausage roll, shepherd's pie, and baked potatoes. After dinner you can shake your shillelagh to a pair of bonny lasses, Ashleigh Flynn and Annalisa Tornfelt.
Dublin Pub
6821 SW Beaverton-Hillsdale Hwy
Pub favorites Darby O'Gill Duo kicks off the party at 3, with songs about drinking, kissing pretty girls, and drinking. Later, there's Fenbi and Lost Highwayman with speedy jigs and timeless ballads. Chow down on Irish stew, corned beef and cabbage, and bangers in honor of the holiday.
Hollywood Theatre
4122 NE Sandy Blvd
What's St Paddy's Day without a lovable leprechaun? The groovy folks at Jackpot Records are hosting a screening of Leprechaun, a craptastic horror flick about a little green fella that wants to pop a cap into anyone that messes with his gold. It also stars Jennifer Aniston well before she became the most overexposed lass in all the land. Green beer will be available and should significantly improve the picture quality
Kells
112 SW Second Ave.
If you're looking for the biggest blarney bash in town, you'll find it at Kells. Yes, they'll have Irish fare and an ocean of Guinness on tap from Wednesday through Saturday, but they'll also have dozens of Celtic musicians,dancers, and a live boxing match smoker on Friday night with a squad from Portland taking on a tough team from Ireland.
Macadam's Bar and Grill
5833 SW Macadam Ave.
Yes! They'll have green beer on tap for Thursday and Friday! And save some room for corn beef and cabbage.
McMenamins Edgefield
It's three days of music, dancing, food, whiskey, wandering pipers, and golf. That's right, you can work off some of that holiday debauchery by entering the 20-hole pitch 'n' putt Seamus MacDuff Golf Tournament.
Paddy's
65 SW Yamhill St.
This tony Irish establishment with the towering wall of booze once graced the cover of this very magazine. On Thursday, they're closing down the street and celebrating with bands, Irish food and drink specials. The live music lineup features D.K. Stewart, Patrick Lamb, and the Portland Metro Pipe Band. Don't forget to enter the raffle for a chance to win a five-day trip to Ireland, with proceeds benefiting the Children's Cancer Association.
St Paddy's Day BarFly Bus
Want to get a headstart on the roistering? Hop on the BarFly Bus this Saturday night and leave the driving to trained professionals. No cover charge at any of the 8-10 (holy cow!) drinking establishments, cocktail specials, and snacks provided.
Thirsty Lion Pub
71 SW Second Ave.
Better pack a bag for this kilt trip. From Wednesday-Saturday you can knock back a pint or three, soak up some sensational bands, menu specials, Irish dancers, and even a crew of bagpipers.
If you've got a lead on any other St Paddy's Day celebrations, send 'em our way!