Beer Bulletin
Long Live the Kingpin!
The Bar Pilot is seeing red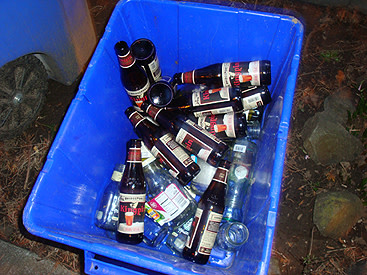 I can't remember the last time I had a "go-to" beer, one that exerted a pull so powerful that it caused me to ignore the sale-priced suds of the week and reach for a sixer no matter my financial circumstances. It's like being in love: When you're between relationships one tends to be very unsentimental and pragmatic when it comes to passing fancies. In other words, we buy whatever brew is on special. But when Cupid's arrow finds its mark, and your palate pouts when there isn't a bottle or two of your favorite in the fridge, the world is suddenly spilling over with choirs, unicorns, and the laughter of children—and that's how Bridgeport's Kingpin makes me feel.
Bridgeport's head brewer Jeff Edgerton (who succeeded the legendary Karl Ockert last year after serving a 13-year apprenticeship with the company) explains that the triple-hopped red ale came about because he was looking for a new brew that would feature Liberty hops, a relatively recent strain with a lovely sweet aroma.
As we chat over the phone, it's pretty obvious that Edgerton is every bit as jazzed as I am about his latest creation. We agree that it's surprisingly light and drinkable for a 7.5 percent ABV ale and that Kingpin's full-bodied "candy orange" citrus flavor is a revelation. The balance of rye and malt is seamless, and even with three loads of hops added during the brewing process, it's a well-rounded taste with almost no trace of lingering bitterness. Aesthetically, the beer is a rock star from Mars; a deep, rich red in the glass that's like staring into a warm, ruby infinity. This is a beer that inspires poetry.
The best news of all, Edgerton says, is that Kingpin is a permanent addition to the Bridgeport roster. It also dawned on me that in all the time I've been reporting on the local beer brigade, I've said very little about Bridgeport. This isn't because I don't care for their product—far from it. Bridgeport is as dependable as a bus driver with OCD, and all of their beers are consistently high quality. Blue Heron, Bridgeport IPA, and ESB, are like model employees that you never have to worry about. And now they have a rising star on their hands. So where did the name come from?
"The original idea for the Kingpin label was kind of mafia-inspired," Edgerton says. "But a lot of people have brought up a bowling connection because of that Woody Harrelson movie." If I had Kingpin at my local bowling alley, every game would be perfect.