Breaking Food News
Little Big Burger Multiplies
Micah Camden to open a second Little Big Burger on N Mississippi Avenue.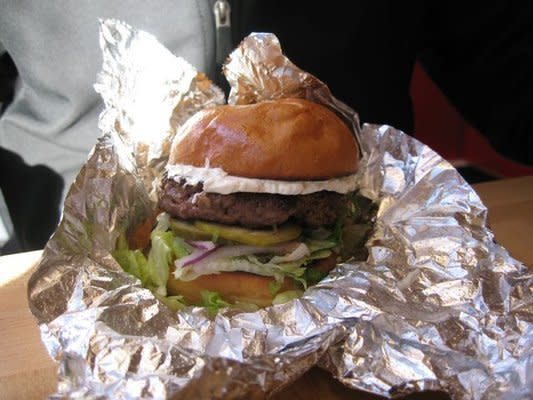 Micah Camden is taking his reimagined soda fountain to North Mississippi. The savvy burger maestro—whose Pearl District prototype for modernist fast food has been a runaway hit—just signed a lease to open his second Little Big Burger at 3753 N Mississippi Ave. Plans are afoot to gut the interior and reboot on June 1 with more of the same: a beauteous mini-burger for $3.25, some fine truffle fries for $2.75, and a setting that sizzles with Lego colors and a strong graphic sensibility.
The combination of good prices, high quality, and thoughtful design has been potent for Little Big Burger, which opened last fall. Expansionist plans originally called for a second outlet in Camden's former Fats space at NE 30th Avenue and Killingsworth Street. But fast food drives on high traffic, and Mississippi, with its bustling summer traffic and neighborhood street fairs, could be smart move.
This is a place worth watching. If Camden can show quality control, and a consistent product is easily duplicated, Little Big Burger could grow big indeed.
Stay tuned.