First Impressions
Aviary Has Wings
Asian-fusion cooking comes to NE Alberta with bold beauty and modest prices.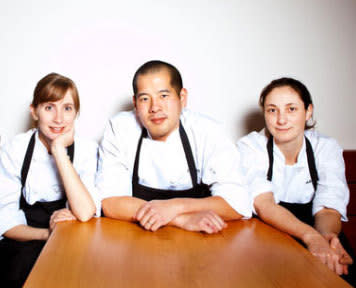 Three thirty-something chefs arrive in Portland after sweating the line at modernist New York destinations Jean Georges and Aquavit, and what do they do? Put a bird on it!
At Aviary, bird-shaped place card holders nest alongside votive candles at a cozy chef's counter, and a golden winged warbler, rendered in artist's paint, hawks the scene from a nearby wall.
But Portlandia Quirky ends here. Barely two months old, Aviary brings something new to the scene: sophisticated Asian-French fusion cooking with a hint of molecular know-how in a polished but super casual setting.
The 16-dish menu is designed for accessibility (stop in for a small plate, an intricate seasonal nosh, or a large plate) and so are the prices, with everything between $8 and $16.
A couple dishes jump out, showing the kitchen's feel for artistry and complexity. I'd come back for just a bourbon-blood orange cocktail, and tiny oxtail croquettes dabbed with tomato jam sing with gutsy but girly flavors, lighter than you'd expect for such a meaty treat. Cauliflower soup is amazing, in full-on creamy mode, with a painterly swirl of shiso sauce and beads of black caviar on top. Spoon to the bottom to find the hidden treasure: sweet nutty slivers of fresh chestnuts.
Meanwhile, Aviary's contribution to Porkland, a kind of new-world paella with crispy pigs ears, coconut rice, and Chinese sausage, is already gaining traction around town.
But the kitchen is still learning its rhythms. Pumpkin tempura boasts beautiful curry notes but a limp texture, missing the moment, the transcendental airy crispness that defines this Japanese deep-fried snack. Braised beef cheeks and whipped celery root, all of it in a handsome swirl, arrived lukewarm, robbing the dish of its essential comfort.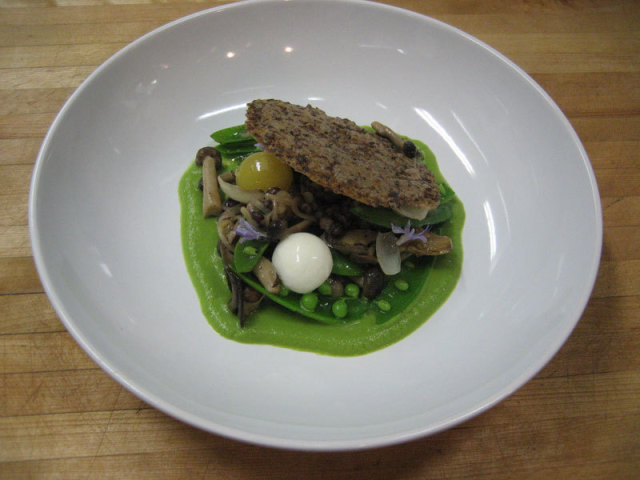 Recently, a warm snap pea salad (above) had, amazingly, about 14 things going on: a swipe of pea puree and teeny cut-open pods revealing the delicate little peas themselves; small spheres of yogurt and orange juice transformed by science and magic into what looks like quail's eggs; a scattering of lily bulbs; itty bitty shimeji mushrooms; and finally, a fragile handmade barley cracker on top. All this passion and labor intensity for a mere $9. The only thing missing was truly memorable flavor.
At Aviary, the art and beauty are here. The ambition level is welcome and necessary in a scene starting to overflow with pork belly sandwiches and fried chicken. Prices are generous. The room chirps with a quiet urban chic. Meanwhile, the outdoor patio opens soon, bringing a whole new flavor to the NE Alberta Street scene.
If Aviary nails a few details—better attention to flavor and temperature control—this place could fly, high. Come get a seat while you can.
Open Mon–Thur 5–10 p.m, Fri–Sat 5–11 p.m.
Aviary
1733 NE Alberta St
503-287-2400
aviarypdx.com