Neighborhood Report
Montavilla After Dark
A pocket of PDX that's got it all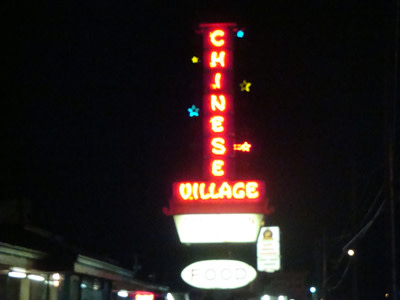 Just got off the phone with an old friend (at my age, all friends are old by default) who's coming to town over the weekend. Naturally, he wanted to consult with the Bar Pilot about where to go, what to do, and how much it will cost. Ordinarily I'd recommend the usual Chamber of Commerce swanky-pants joints like The Benson, Teardrop Lounge, or Clyde Common, but it being the weekend those places will undoubtedly be stuffed like frat boys in a phone booth (really dated reference). Sure, you could fork over a king's ransom for a place to park downtown and rub elbows with belligerent bridge-and-tunnel clowns staggering hither and yon on their perpetual prom night drunk-a-thon, but it ain't my bag, and in good conscience, I can't recommend this adventure to wide-eyed tourists, as it might convey the false impression that Portlanders are a bunch of raging yahoos.
Instead, I suggested the same ramble I took with a few chums last Saturday night, exploring the Montavilla neighborhood. What's not to like? Here's a 'hood with everything. Top-notch dining options like Country Cat, Ya Hala's and Flying Pie are conveniently tucked next to a buffet of bars and clubs of all description. We began our sojourn at Roscoe's, which has evolved from a charmless dive bar to a more-than-adequate beer and sports pub. The tap selection is well-curated with ales from Fort George, Caldera, and Russian River, among others, and the bar food (po' boys, bison burgers, mac and cheese variations) is rib-sticking and reasonable. Fast and friendly waitstaff, too.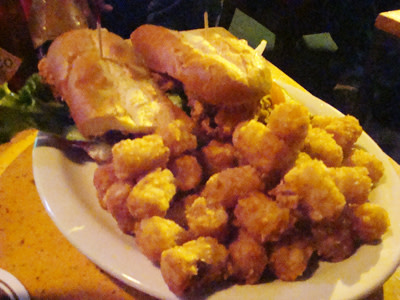 After getting our beer on, we traipsed over to The Observatory for a classy cocktail. The dusky, inviting main room was a hive of activity, so we discretely made our way to the second bar in the back called the Over and Out (two bars in one!), which has more of a rumpus room feel to it, with five pinball machines, pool, and an identical drink menu. Speaking of which, the Spiced Manhattan ($7) with its gallimaufry of flavors (sweet, smoky, clove, ginger) is an intriguing cocktail with which I would like to get better acquainted. For folks who enjoy flames issuing forth from their mouth, nose, and ears, take a chance on the Bloody Morimoto ($7, named after the coolest Iron Chef) that sports wasabi vodka, sake, sriracha bloody mary mix and a wasabi-salt rim.
With the polite drinking out of the way, we eagerly scampered across SE 82nd to one of my all-time favorite dives, Chinese Village, the coal-dark capacious drinking den that features murderously strong well drinks, a kitschy thatched awning that covers the booths in the back, a righteous juke (Dead Moon!) and some of the fanciest Chinoiserie in Portland. That is, it used to have all these things. Now it has all the charm of a roadside rest room, as management had the brilliant idea to remove all the nifty nickknacks in favor of more video poker machines and a karaoke set-up. That's awesome. Instead of legions of slumming hipsters flashing trust-fund dough, Chinese Village will cater strictly to local lushes on disability and degenerate gamblers. There is now no reason to go. And I won't. I'm certain that the video crack machines will bring a momentary upsurge in monetary liquidity, but by removing its only distinctive features, Chinese Village has doomed itself—and its beckoning neon sign will mark the place as a Flying Dutchman inhabited by lost souls.
To wash the bitter taste of "progress" out of our minds, we opted for a night cap at The Vintage, a teensy little bar with a lengthy cocktail list. My friend Lucy foolishly agreed to let me buy her final drink of the evening, and when I read about the so-called 99 and a Half ($10), I knew I'd found a winner. I watched spellbound as the bartender mixed Maker's Mark and Cynar (the Italian artichoke liqueur) with ice in a pint glass. She then poured green Chartreuse into a wine glass and set it alight before straining the first mixture into the wine glass to douse the flames. (Safety first, kids!) Finally she singed a bit of orange peel and threw it in as a smoking garnish. The look on Lucy's face changed from anxious to awed in a twinkling. For who knows what reason, the combination of burnt orange, artichoke, and smoldering bourbon coalesced into a brawny drink with compelling smoke and citrus shading. I, on the other had, made do with an Old Screw ($6), a what-the-hell concoction made with house scotch, St. Germain elderflower liqueur, and a dash of allspice. My lingering rage over the artless gutting of a beloved dive soon gave way to grim acceptance and a comfy buzz.
As we made our way out the door I took in the width and breadth of SE Stark. Just down the street folks were filing out of the Academy Theater, a handsome second-run movie house with beer and pizza. It's yet another place to tarry, as is Thatcher's a venerable dance club also located nearby. And if you really want to end the evening with a bang, there's Portland Tub and Tan which stays open till 1 am on Fridays and Saturdays. I also happen to know it has a Roman bath-themed area and a disco room—unless the owners decided to scrap the concept and go with video poker. Wouldn't surprise me a bit.