Happy Hour
Happy Hour of the Week
Night Light does it right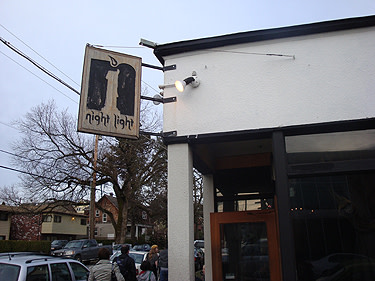 Till I'm blue in the face I've said it. The success or failure of a Happy Hour depends mostly on the little things—the willingness of the staff to put out (don't—just don't) and make it a special occasion every time Joe Bohemian and Sally Thriftstore-Waife sashay through the door. Congratulations to the Night Light Lounge on SE Clinton, 'cause you thoroughly understand the concept of Happy Hour, which explains why you're always packed to the gills. And for venues who are having trouble getting butts in the seats during the after-work exodus, I suggest you take notes.
First of all, the hours are generous. From 2-7 Monday-Friday and 11 pm – 1 am Thursday-Sunday you can get special prices on food, beer—and wine. This is good news for oenophiles. My more elegant companions are frequently in a lather over having to pay full price for a glass of vino during Happy Hour whilst the rest of us are contentedly lapping up cheap beers. Anyway, the duration of Happy Hour here is such that you aren't under insane pressure to immediately decide on snacks and swill. Even if you're a clever little bug and order a whole bunch of food at once, chances are it will be cold, gooey, and hideous by the time you're ready for another round. On a non-HH note, the Night Light hosts a reasonably priced brunch every Saturday and Sunday between 10-2.
Night Light offers 50 cents off wells, $1.50 PBRs, $3.50 micros, $4 for a 20-oz Guinness, and $1 off all wine by the glass. Like I said, generous.
Speaking of which, there are also five seating options to accommodate parties of all shapes and sizes, including a bustling main room with a couple of comfy couch pods; seats at the bar if you want to keep the bartender in sight at all times; a smaller back room for a dab of privacy; a rustic smoking deck; and a half-dozen sidewalk four-tops for those who listened to their mothers and brought along sweaters.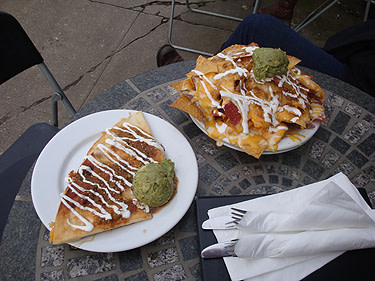 On the food front, it's basic but bountiful. The nachos ($4) get a thumbs-up thanks to the fresh-made tortilla chips, which serve as yummy and durable corn saucers bearing payloads of beans and cheese to your waiting gob. The quesadilla ($3) is serviceable but really receives a boost from a splash of chipotle tomatillo salsa adding some zest to the three cheeses on parade. You certainly can't go wrong with a hearty grilled cheese sammy and a cup of tomato soup for $5, especially if there's a chill in the air and you didn't listen to Mom and bring a sweater. Instant warmth. And while they aren't offered at a discount, the Oregon Buffalo Slider ($4) with dried figs, bleu cheese, tomato, fried onions, and Mexican chocolate au jus is a required course for aficionados of the small-burger movement; when cheese and chocolate connect it's like Romeo and Juliet, baby. Except you eat them.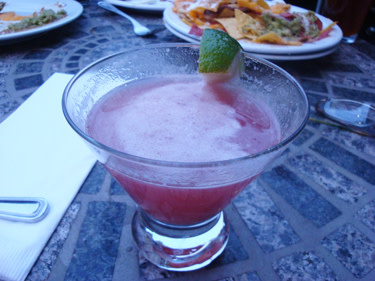 Cocktail connoisseurs will have plenty of possibilities to ponder from the $7 signature cocktails menu. I normally have little patience for gimmicky drinks (unless you're buying), but the Pineapple Habañero Cosmo is hard to resist with its mix of fire and fruit. The Jamaican Mule, served in a tall glass with ginger-infused Deco rum, is another can't-miss choice. The Stumptown Nudge combines Godiva chocolate, kahlua, brandy, and Stumptown coffee. It must be fairly tasty; the gal one booth over was making Meg Ryan orgasm sounds with every sip.
Considering that the Night Light has a fiercely loyal neighborhood following who seem to be present around the clock, it's also amazing that the waitstaff is so fast and friendly. The Night Light is a tight ship, from the bartenders to waitresses, everyone is on the same page. And finally, a personal observation. The folks at BarFly mag are correct: the clientele is quite attractive.