Hometown Pride
Secrets of an Iron Chef
A behind-the-scenes look at Vitaly Paley's April 17 battle with Jose Garces on Iron Chef America.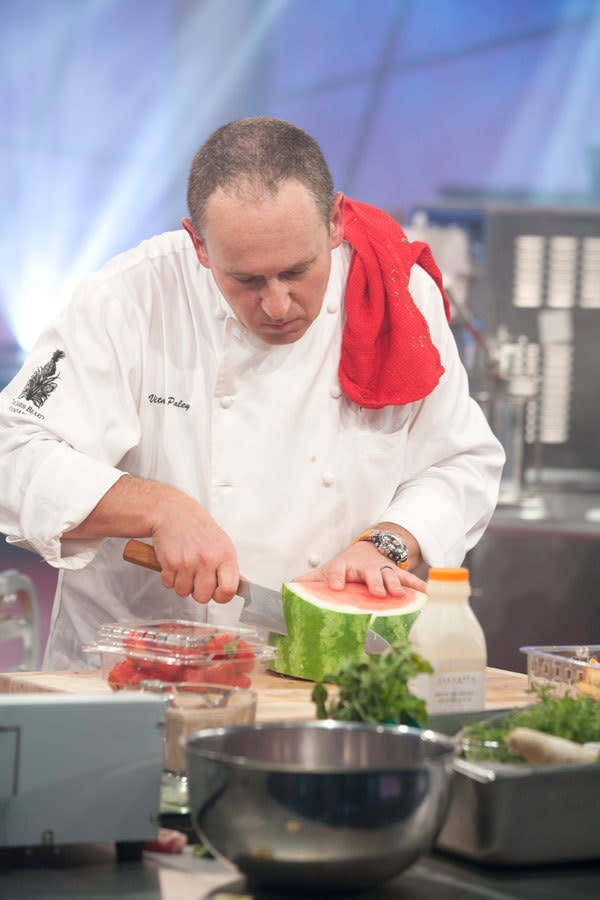 Sharpen your competitive knives, people. Portland chefs are on the battlefield, fighting for James Beard Awards and slicing their way through national food competitions.
• On Wednesday, April 6, Beast's Naomi Pomeroy will fight off some high-ranking food foes on season three of Top Chef Masters, premiering on Bravo.
• On Sunday, April 17, Portland's farm-to-table pioneer Vitaly Paley (himself a James Beard champion) goes mano a mano with Philly's famed Latin fusion chef Jose Garces on the Food Network's Iron Chef America.
And check this out: If you want to know the results before everyone else on the West Coast, come to the Paley's rooting party on the 17th, 5:30–9:30 p.m. at the Ecotrust Building (721 NW Ninth Ave). Expect some fine snacking courtesy of Din Din Supper Club (young food wiz Courtney Sproule works for Paley's part time). Tickets to the screening party are $25. Snag some here.
The premise of the wildly popular show is simple: accomplished guest chefs are invited to "challenge" an "Iron Chef" to a duel of dishes prepared in one hour. Each course get points for taste, presentation, and creativity by a panel as serious as Nuremberg judges. And to make things just a wee more complicated, a secret ingredient is unveiled at the start of each battle, and it must figure prominently in each dish.
Each challenger is allowed to select their foe from a small elite pool of Iron Chefs and Food Network regulars, among them Bobby Flay and Masaharu Morimoto. Most of these Iron Chefs are nearly unbeatable. After all, if every hot shot could take down these champs, they would seem more tin metal than iron. Yet if challengers don't win on occasion, what's the point?
Though Garces took down Naomi Pomeroy last September, he's one of the more beatable Iron Chefs, more flash than substance. I'm giving Paley a fighting chance—he's a seasoned pro, used to flying in high company and around big-ass equipment. In 2009, he won the Cochon 555 contest, a national pig contest, winning the title "Price of Pork" (a title every Jewish boy hopes for), and besting young beasts around town, including Tommy Habetz and Gabriel Rucker.
But it's the secret ingredient that's an X-factor. Paley says chefs are "on pins and needles until the last moment" as to what it might be.
Paley was recruited for the show last spring—he says he was called blindly and was put on a "short list" prepared by talent scouts who seemed to know everything about him. Three weeks later, a formal invitation arrived. The show was shot last August in New York, but by contract, of course, chefs can not reveal anything that happens after they step into studio.
The support crew includes Paley's former longtime second-in-command Benjamin Bettinger (Beaker & Blask) and his current chef de cuisine, Patrick McKee. To prep for the show, the team ran high-pressure, clock-timed kitchen drills every Sunday for three months.
But there's no preparing for the heat of this moment. "The lights are on you and it's all going to pieces," admits Paley. "It's intimidating to the 100th degree. You're in a new kitchen, it takes time to mechanically think things through. You're fielding curve balls constantly. It's a recipe for disaster."
Win or lose—and only the shadow knows at this writing—Paley says it was worth every moment of blood and sweat. "It's one of those moments in your life. You're walking down the street, and see a corner. You want to turn it and find out what's waiting. But what it's really about is getting to that corner. It's the process, not the end result."