Product Placement
Stuff I Want
The Bar Pilot's Birthday is May 5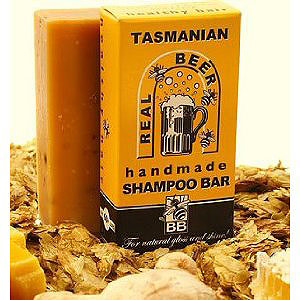 Look, I love you guys, but what have you done for me lately? That's what I thought—bubkes. Sigh I give so much and I ask for so little.
Don't despair, my birthday is coming up so I'll periodically drop some subtle hints about reasonably priced gift ideas that are guaranteed to cement the bonds of our friendship. And if you have another shiftless sot in your life chances are he/she will be likewise tickled pink.
Gift Idea #1
Tasmanian Beer Shampoo No less of an authority on physical comeliness than Catherine Zeta-Jones has extolled the daily application of ale to her lovely raven tresses. My tresses may not be lovely (or raven) but even the bail of barn hay I wear on my crown could be improved with this product.
Gift Idea #2
Binocktails Flasks We've all seen flasks disguised as binoculars whilst waiting in line at the liquor store but the hidden flask company Binocktails also makes realistic-looking cell phones and digital cameras for the times when you're out in the field and really want to get a buzz on—and really don't want to get caught.