Party On
Spring Fling
Tired of spring showers? Color the gray with flowers, Sparkling Rosé Sangria, and Confectionery Club's macarons.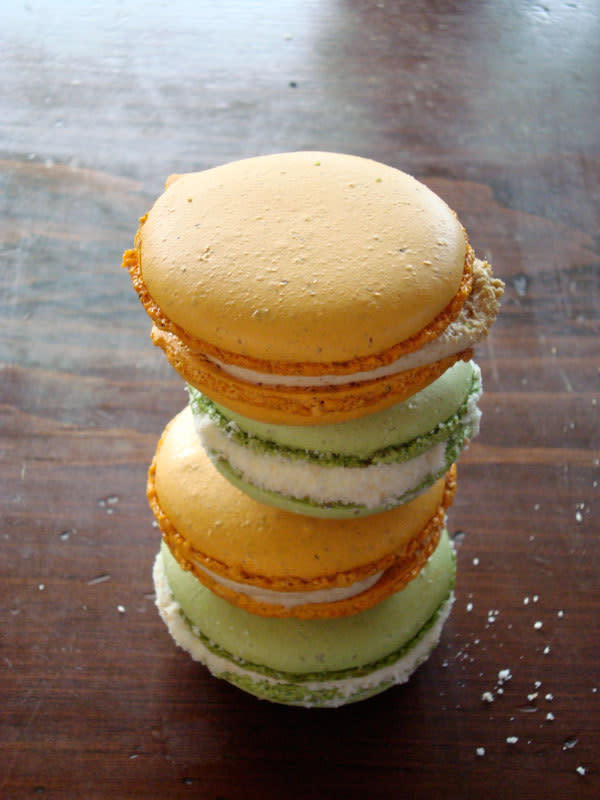 There are a profusion of blooms floating around Portland right now. Out my office window, for instance, is a plum tree festooned with delicate pink flowers, and a row of cherry trees swirl their pretty branches down my street. It's hard to stay angry at the endless gray skies with this explosion of merry pastels carpeting the sidewalks and dancing in the air.
So why not throw a similarly themed party, to celebrate the season and say goodbye to the grim skies and bare trees of winter? Invite a few friends over for an afternoon, whip together a tasty drink, plate some ready-to-go desserts, and voila! Instant party, with minimal muss or fuss on your part.
First things first: think about your drink. In honor of spring, Jeffrey Morgenthaler, the bar manager at Clyde Common and mixologist extraordinaire, came up with the perfect idea for such a party. "Why not a rosé sangria?" he asked. Why not indeed?
Sparkling Rosé Sangria
1 750 ml bottle sparkling rosé (Try the Lucien Albrecht brut rosé at around $15 retail)
¾ cup orange liqueur (Try using Cointreau or the new Combier Liqueur d'Orange for around $35 retail)
1 cup fresh orange juice
1 oz simple syrup (made from equal parts sugar and hot water)
1 tsp bitters (I use Peychaud's)
Mix ingredients together in a large pitcher. Add fresh seasonal fruit and serve in goblets over ice. Makes 8 five-ounce servings.
Next, consider your food. In keeping with the spring theme, I'm particularly taken with the petal-colored discs called macarons made by local company Confectionery Club. Available by the dozen for $14, they have perfect pairings for the sangria and the season. Try some lovely flavors like natural rose extract and vanilla, or organic cucumber and French rosewater, or organic poppy and orange. Or spice things up a little, with ancho chile or smoked paprika and Spanish saffron.
As for decorations? Similarly simple for you (since they're painstakingly made by someone else), the massive explosions of color of local etsy shop Prost to the Host's tissue poms look like oversized blooms brought indoors. Ranging in size from 12" to 18" (and starting around $3 apiece for the medium size), they'll fill up a space fast and look great in the vast range of colors from boysenberry and buttercup to carrot and coral.
And voila! A perfect party in no time flat to celebrate the coming of spring.