New Bars
Countdown to Yolo
Pan-Asian lounge is coming
On my way back to the office after another superb lunch at my favorite downtown eatery—that would be Hush Hush Cafe—I took a peek at the construction going on across the street at the former home of the Invasion Atomic Cafe. It's going to be called Yolo Lounge; I pasted in this frothy description from the website:
YOLO Lounge will redefine upscale nightlife not just in Portland, but for the industry itself. Found at the epicenter of the City's financial square, YOLO Lounge opens as a sophisticated destination spot. With a modern-inspired sub-rosa lounge executed by top local designers, guests will experience both "the scene and cuisine," in a cutting edge environment that feels at once intimate and expansive. YOLO Lounge will offer a full menu of Pan-Asian fusion small plates paired with exquisite ambiance and exceptional service. Five thousand square feet encompasses a private VIP mezzanine, fully equipped event facility/venue and an impressive main lounge. A true lounge catering to professionals looking to relax in style.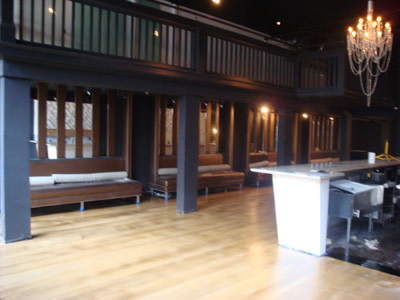 According to the dramatic countdown clock on the homepage, it appears that Yolo will be open for business in 13 days, 10 hours, 33 minutes, and 45 seconds. I suggest we synchronize our watches at this point. Timing is everything.