CHEAP EATS
A World Apart
Eastmoreland Market's storybook appeal and affordable gourmet eats will take you around the world on your lunch hour.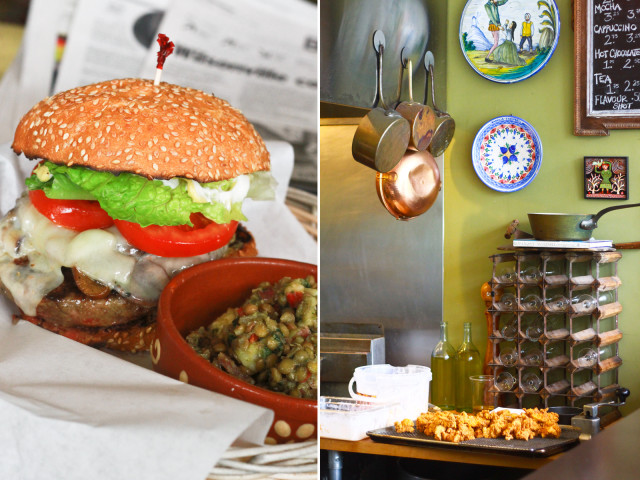 Sometimes I fear that Eastmoreland Market doesn't actually exist. The small cafe and mercantile appears as an oasis, tucked away amidst an exclusively residential area of Southeast Portland like an apparition out of a European storybook. Equal parts specialty market, deli, wine bar, and neighborhood coffee shop, Eastmoreland Market – at 3616 Southeast Knapp Street – is the kind of place that could have met all your needs in a simpler time. Today, it's still a welcome diversion from big-box stores and white-walled restaurants, and the homey open kitchen has developed a reputation for serving some of the best sandwiches in town.
The lunch menu takes up the wall behind the deli counter, and features made-to-order sandwiches, satisfying soups, and a really, really good burger. Try the Muffaletta, a masterpiece of ham, salumi, mortadella, swiss and provolone, topped with their house-made pickled vegetable and olive salad on fresh ciabatta ($8), or one of the best vegetarian sandwiches around, featuring seasonal roasted veggies and avocado on Daves Killer bread with Chef Jessie's secret sauce ($8). While the sandwiches are all fantastic, the real Cheap Eats discoveries are in the small deli case itself – a rotating selection of pasta and bean salads, marinated and grilled vegetables, roasted chickens, and the perfect arancini (big fried risotto balls for just a dollar!). You can get a big plate full of fresh, colorful, flavor-packed food, usually for less than five bucks. Whether you're ordering a full meal with wine or are popping in for a $1 arancini snack, the kitchen staff takes the time to make your experience memorable. While you wait, you can check out the well-stocked aisles of Italian and Spanish artisan foods, fresh produce, and a great selection of wines and imported beers.
I know you're likely to fill up on lunch, but be warned: you must save room for dessert. This week I had a lavender and lemon custard tart with marionberry gelée that would belong on the dessert menu at any of Portland's best restaurants, and there's always a mouthwatering selection of pastries, cookies, glazed bundt cakes, and brownies.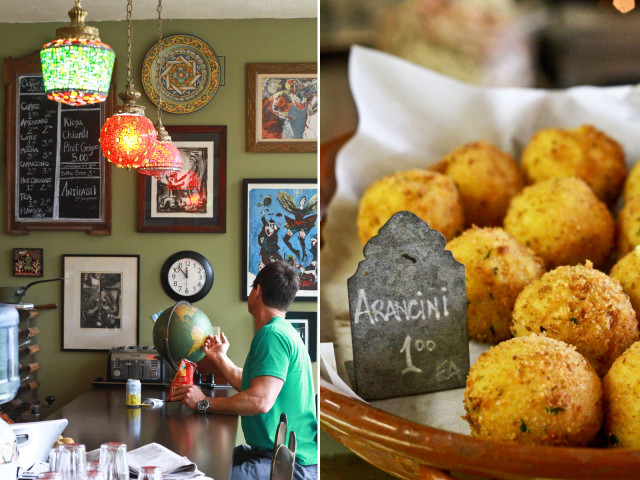 Seating is limited to a few small tables and five bar stools along the counter overlooking the grill and prep-area (snag a seat at one of these to watch the staff whip up daily specials like bacon-wrapped meatloaf, corned beef, stuffed bell peppers, and fried chicken fingers from scratch) but finding space has never been an issue, even at peak lunch hours. During the summer, the sidewalk tables transform into the perfect place to live out your European fantasies. Speaking of which, will somebody please go have lunch at Eastmoreland Market and let me know that it's not actually a fantasy of my imagination? I'd be much obliged.
Eastmoreland Market & Kitchen, 3616 SE Knapp, 503-771-1186
Hours: 9 am to 7 pm Monday through Friday, 9 am to 6 pm Saturdays. Closed Sunday.