In the Kitchen
Sugar is Sweet, Rhubarb is Sour, and its Prime is the Springtime Hour
Sweeten up rhubarb with these easy spring recipes—either raw in a salad or baked in the oven.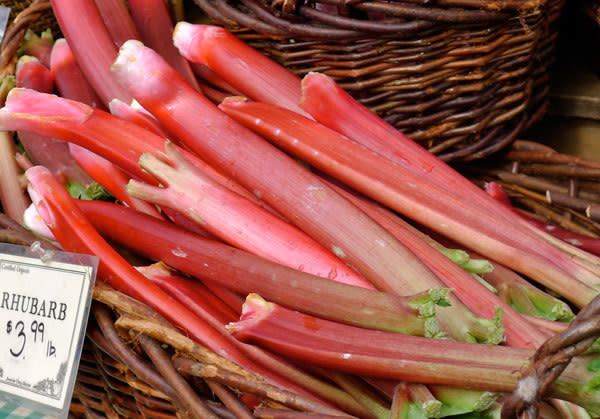 Right about now, local farmers are pulling up thick, sturdy stalks of rhubarb. Technically not a fruit, this cousin to buckwheat will make your lips pucker when eaten raw. But, combine the tart perennial with something sweet for a mouth-watering treat. Rhubarb will be in season throughout much of the summer, but the best time to get it is now, when the ground is cold and the stalks are firm and snappy. (Just don't eat the leaves—they're poisonous.)
Rhubarb perks up a dull salad with its tart crunch. Slice the stalk at an angle, as thinly as possible. Toss it with some fresh spring greens, a little goat cheese and a dose of your favorite sweet vinaigrette. I like to make a honey vinaigrette with a olive oil, honey, and apple cider vinegar.
I also love baked rhubarb. I discovered this simple pleasure from one of my favorite cookbooks, Chez Panisse Fruit by Alice Waters. Here's my version, made with brown sugar:
Baked Rhubarb
1 tbsp soft unsalted butter, for the pan
1 1/2 lb rhubarb (about 3-4 thick stalks), washed and chopped into 1/2 inch chunks
3/4 cup dark brown sugar (or less, depending how sweet you like it)
1/4 cup orange juice
1/2 tsp fine sea salt
Preheat oven to 350 degrees.
Rub a medium baking dish with the soft butter. Toss in the rhubarb, sugar, juice, and salt and allow to sit for 10 minutes. Cover with foil and bake for about 15 minutes, until the rhubarb pieces are just becoming soft. Uncover carefully, and bake another 5-10 minutes.
Serve warm with vanilla bean ice cream or creme fraiche.