Cook This Now
Spring Greens Fever
Spring flowers you can eat now; These crucifer tops from the farmers market are fantastic tossed into salads or a quick saute.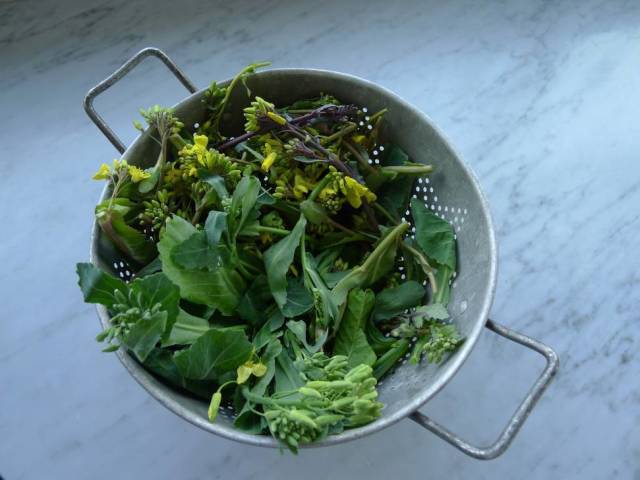 I eat spring flowers. No, not local tulips or hyacinths. The flowers I consume are lanky shoots from crucifers like broccoli, turnips, collards, cauliflower, and kale. At the farmers markets, they're often labeled "spring raab," but that's a misnomer. The word raab is most likely an offshoot (excuse the pun) of broccoli raab, another vegetable in the same family. It's also known as rapini or, in Italian, broccoli di rape.
To ensure that my inkling was correct, I emailed one of Oregon's most venerable farmers, Anthony Boutard of Ayers Creek Farm in Gaston. He explained, "raab was a made-up word, like arugula. If I recall correctly, it was trademarked and used for a cross between a rape and broccoli, a nicer or obscured way of saying rape." The Boutards call them shoots or tops, and, prefer those from the turnip crop, which they claim are "pleasantly sharp and very tender."
The beauty of these edible tops is that they can be eaten raw or cooked. The leafy stalks and rosettes are crisp and crunchy when tossed into a salad, or tender and sweet with a simple saute. Last Saturday at the PSU farmers market, Gathering Together Farm had their "Spring Raab" sign posted above piles of perfect bunches for only $2.50 each. Get these nutritious greens soon, while the weather is still cool and they remain sweet and tender, like springtime itself.
Trim the ends if they are very thick and toss them into a bowl of mustard vinaigrette, add lettuce leaves, and you've got a healthy spring salad. If you cook the shoots, do it fast and serve them as a side or tossed with a fresh spelt fettucine, a little ricotta salata cheese, and a bit more olive oil.
Sauteed Spring Shoots
2 teaspoons olive oil
6-8 oz crucifer shoots, rinsed, still a little wet
1/4 to 1/2 teaspoon fine sea salt
1 garlic clove, finely minced (optional)
In a large saute pan, heat the olive oil for just under a minute, over medium-high heat. Add the flowers and shake the pan to stir. Add salt and garlic. Cook one minute, cover pan, and turn off heat. Let sit for about 30 seconds, or if the greens are more mature and thick-stemmed, leave another minute or so. Season with more sea salt if needed and eat right away.