Market Watch
Not All Vinegar is Created Equal
Taste the sweet and sour difference in this versatile vinegar from Katz.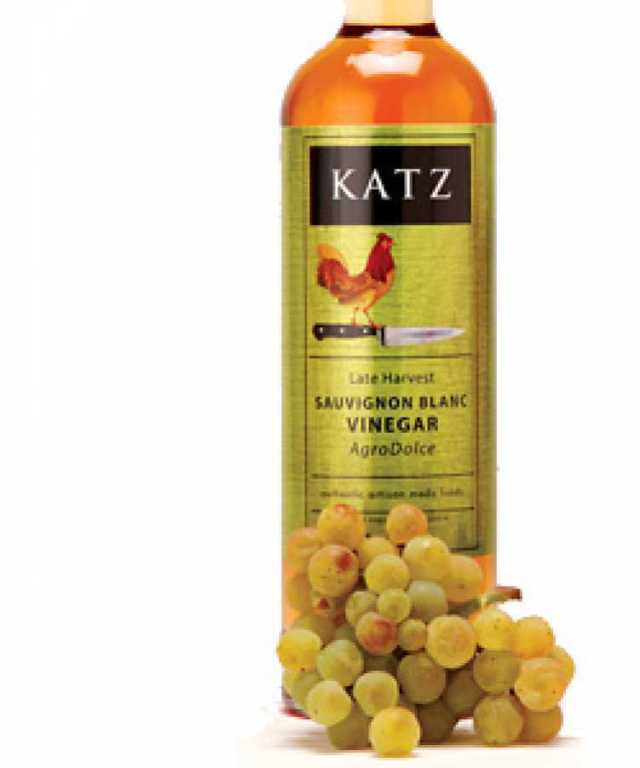 I have at least twelve types of vinegar in my pantry. From balsamics to muscatels to cherry-infused, my sour arsenal is well-stocked. Some get used frequently, while others (like the fig or cherry) accumulate dust around the rim. That said, my go-to vinegar is the Agrodulce, made by the Katz family in California.
Balanced and complex, woodsy and fruity, the Katz Agrodulce vinegar (agrodulce means sour-sweet) is one of the best vinegars I've ever tasted. Made from organic late harvest sauvignon blanc grown near Napa, these grapes stay on the vine a bit longer (for a dessert wine) to concentrate the sugars. The juice is then blended with the Katz white wine vinegar, and fermented with a mother or mycoderma aceti, using the "Orleans" method created hundreds of years ago in France. The process, unlike that of commercial vinegars, which are made in a day, takes patience and time. Slowly aged in oak barrels, the price of the vinegar reflects the effort ($11). But, once you taste it, you understand the difference. So, when you have balsamic burn-out, try this vinegar instead.
I use this in my daily vinaigrette with some chopped shallot and good olive oil over salad greens. It's also great added to certain homemade condiments like an Italian salsa verde. Try it drizzled over berries.
Katz vinegars are available at Pastaworks, City Market, Zupan's Markets, and from Jim Dixon at Real Good Food.