Happy Hour
Happy Hour of the Week: Lucy's Table
This stalwart Nob Hill eatery deserves a try—or yet another repeat visit.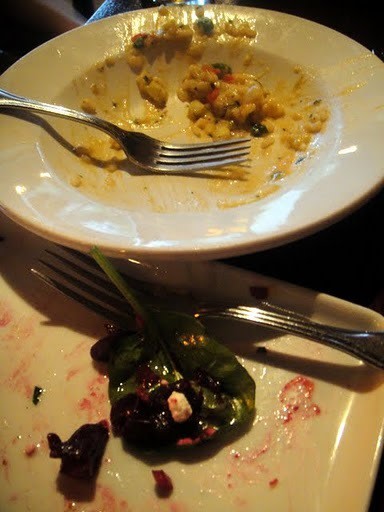 In a city where the citizens are willing to wait two-plus hours for a chance to dine on the latest charismatic comfort food, the fine-dining folks who've been doing a good job year after year tend to get short-shrift from the local media. In a meager effort to remedy these slights, we offer Lucy's Table.
Perched on a bustling corner of NW 21st, this unassuming grande dame has been feeding Portlanders an eclectic mix of upscale cuisine for nearly 23 years. The dinner menu isn't cheap (entrées range from $15 to $26), but the lunch menu is a bit of a hidden gem, with artful soups, salads, sandwiches, and a variety of house-made pastas and small entrées, all for $10 or less. The dishes are a swirl of Mediterranean and American favorites (think pork osso bucco sharing menu real estate with vegetarian meatloaf and mashed potatoes), and showcase regional ingredients. The wine menu is a lengthy study but reasonably priced (lots of $20s, $30s, and $40s), and is paired with the requisite creative cocktail list that riffs on old fashioned darlings like the gin fizz or sidecar.
When I popped in for Happy Hour last Friday, I was immediately struck by two things:
The first was the superb service I received from my waiter—he was extremely prompt, knowledgeable about the food, and polite without that cloying fakery that permeates nice restaurants.
The second was that they were playing Mr. Bungle, an awesome disconnect with the largely well-heeled 50-something crowd dining in the tiny cocktail lounge area, all of whom seemed to be enjoying the music just fine.
With only six items, the Happy Hour menu itself is a tad limited, but the prices are right and every single thing is tasty.
The standouts:
1) A generous bowl of Macaroni and Cheese ($4) featuring large noodles cooked al dente and swathed in a rich, creamy, tangy sauce with a subtle splash of white truffle oil, only available during HH.
2) A pile of fall-off-the-bone Pomegranate Glazed Baby Back Ribs ($5), glistening with a zingy and subtly sweet citrusy glaze.
3) A crisp Roasted Beet Salad ($4), in which the crimson veg isn't over-marinated to the point of being pickled; instead, it sits like a mound of vibrant jewels amidst pears, spinach, and a sprinkle of salty feta.
The Vegetable Risotto ($4; only available at HH) is also a treat—it manages to feel light but have a full, rich, oniony flavor that's hard to accomplish without meat stock. The house-made Goat Cheese Ravioli ($3) swimming in a brown butter sauce flecked with pancetta is a decadent snack, but a tad doughy for my taste. And the final item—Lucy's BBQ Burger ($6)—has good flavor, but the thin patty and whole wheat bun may be off-putting to local burger lovers.
The HH drink menu consists of three draft beers ($3), well drinks ($4), and house red, white, ros—, and sparkling ($4). I had a perfectly pleasant glass of Argentinean Malbec that was earthy and full of ripe fruit.
Lucy's Table may not be new or terribly inventive, but she's a solid reminder that sometimes restaurants stick around for good reason.
Happy Hours: Mon-Sat, 5-6pm
Address: 704 NW 21st Ave