In the Kitchen
Springtime Nettles are Here and Soup's On
Stinging nettles are popping up everywhere, so get thee to the forest or farmers market to gather the goods and make this simple soup.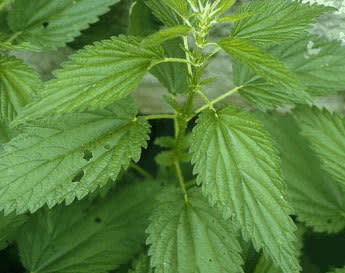 Stinging nettles mark the official beginning of spring. Before fresh peas show their petite faces and while we wait for asparagus stalks to gain length, nettles run amok in fields and pastures and populate the forest floor all over the Northwest. Nettles are an immune booster and taste delicious, with a spinach-like flavor, but more herbaceous. Don't miss out on this nutritious perennial, chock full of calcium, iron, and vitamins A and C.
Stinging Nettle Tips:
-Wear gloves to forage and clean.
-Get the nettles before they have flowered, if possible.
-Soak in cold water to clean, then lift out carefully and remove the thick stems.
-You can cook big batches, cool, squeeze water out and freeze in small containers to use in soups, omelets, and sauces.
-Dried nettles make a great healing tisane (herbal tea). Add a handful of dried nettles to boiling water and steep 7 minutes.
I love to throw a handful of blanched nettles into an omelet. I'm sure there are lots of other dishes to use these tasty stinging treasures in, but this soup is an easy seasonal favorite.
3 tbsp butter
1 medium yellow onion, finely chopped
1 tsp fine sea salt, to taste
1 tsp fresh thyme leaves
12 oz potatoes, peeled and chopped into 1 inch cubes
6–7 cups chicken or vegetable broth
12 oz stinging nettles, large stems removed
1/2 cup Bellwether sheep's milk yogurt or plain yogurt
Lemon juice, to taste
1/4 cup finely chopped chives
1. Melt butter in a soup pot over medium heat. Add the onions and saute until very soft. Add salt and thyme. Stir in the potatoes and add broth.
2. Bring to a boil over medium heat and turn down to simmer about 20 minutes until the potatoes are soft and completely cooked.
3. Using gloves, add the nettles, stirring to incorporate. Cook another 10 minutes to soften the greens.
4. In batches, puree the soup in a blender or food processor until very smooth. Taste for salt and add more if you like.
5. Re-warm soup in the pot. Combine the yogurt and lemon juice.
6. Serve soup with a dollop of yogurt and a sprinkling of chives.
(Serves 6)