Beer and a Shot
Dutch Treat
Upright Brewing's Kopstootje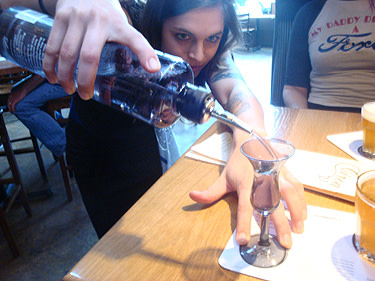 The instruction card read:
Scoot to the edge of the bar.
Bend from the waist to sip from the tulip glass.
Look a little silly? Perfect.
Sit up. Take a sip of your beer.
Now introduce your new friend to a stranger.
Repeat.
Last Friday found your humble narrator facing the bar at Circa 33, along with a bunch of other beery chaps, waiting for the green light. Directly in front of each of us was a shot and a beer, but nothing nearly as prosaic as bourbon and Bud. Instead, the bartender had filled our lovely tulip glasses to overflowing with Bols Genever, a brazen, wheat-based Dutch-style gin variant. Perched nearby was a beer back of Kopstootje (kop-stow-tje, which mean "little head-butt) Biere, a specially brewed, limited-edition ale from Upright Brewing mastermind Alex Ganum and local spirits guide Jacob Grier, that was formulated specifically to be imbibed in concert with the gin (that isn't really gin).
After some introductory comments by Ganum, who noted he tried to add as many of the same botanical and aromatic ingredients to the beer that are also found in Bols Genever (star anise, clove, juniper, to name a few), and by Bols Genever brand ambassador Tal Nadari, who insisted that his product is really more akin to whiskey than gin, we put our hands behind our backs, bent forward and sipped. I can attest to the fact that Bols Genever is in no way similar to Beefeaters, Seagrams, or any other dry London-style gin. Instead, there is more herbal sweetness, with none of the accompanying burn. When you add a splash of the botanically bolstered Upright Kopstootje, the remnants of the Genever seem to go "poof" and a cloud of malt, licorice, and clove is left behind, which softly dissipates.
I found the combination to be earthy and intricate, but perhaps not suitable for your daily dose. This is a complex flavor confluence best left to august occasions. If you wish to take this pairing for a test drive, you can find Bols Genever and Kopstootje currently available at Hop and Vine, Beaker and Flask, Grain and Gristle, and a few other classy drinking establishments.