INTERVIEW
5 Questions for: Bartender on the Move Brandon Wise
Irving Street Kitchen's erstwhile mixologist crosses the river to shake things up at Beaker & Flask.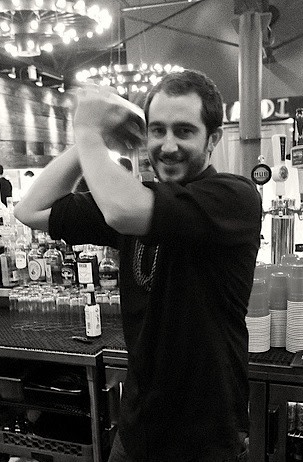 After a successful year behind the bar at Irving Street Kitchen, the multi-talented Brandon Wise is heading east to take over as bar manager at Beaker & Flask, the popular hangout at 720 Southeast Sandy Boulevard known for combining top-notch seasonal fare and a solid list of creative craft cocktails. This latest shake-up comes in the wake of Beaker bartender Dave Shenaut's departure to the Crystal Hotel's Zeus Cafe, the McMenamin Brothers' latest venture on West Burnside. A lot of changes are in store for everyone's favorite hard-to-find Central Eastside eat- and drink-ery, but, if you ask us, bringing on Brandon was a very Wise move.
We caught up with the man on the move before he begins his new post to chat about his industry history, his favorite cocktail books, and his big plans for summer.
1) Tell us a little bit about the new job, and when we'll be able to find you behind the bar.
I'll be starting on Monday but doing some double time to ensure Irving Street has a smooth transition. I'm really excited about working with Benny and Kevin [Ben Bettinger and Kevin Ludwig of Beaker and Flask]. They're two of the most talented guys in town and I think we'll all work well together. I did a couple of stagiaire shifts over there and it just felt so comfortable behind that bar, like "finally, I'm home!" I think the environment at Beaker lends more towards the service aspect, really connecting with the guest, more so than the uber-spacious Irving Street Kitchen.
2) How did you get behind the bar in the first place? What brought you to the cocktail world?
I started tending bar in college and have been working with my hair on fire in the service industry since I was legally able to. On my 15th birthday my dad took me for a drive, I thought for a birthday present or something cool, until he revealed that we weren't going home until I got a job; the rest is history. I got into cocktails when I was hired on to open and manage what was intended to be a neighborhood wine bar on the north side of Chicago that only served classic cocktails. In the first week we were open and saw the reviews we realized we were a cocktail bar.
3) Got any plans in the works for your new post?
My goal for the summer is to have some fun, and hopefully that is contagious to the rest of the staff. If you love what you do I think that gets conveyed to the guest and if we're all having a great time and the food, drink, and service are all spot on then everybody wins. That's the kind of place I want to hang out in as a consumer, and as a staff that's where we're most effective and creative. This Tuesday is the first 'Picnic in the Parking Lot' where Benny is busting out his spit roaster and we're having a good old fashioned barbecue. I'm placing all my bets that this summer is going to be incredible so I'm fired up to do some bad-ass punch service for these outdoor events! As for cocktails I have a few things I've been working on and it'd be fun to bring back the cocktail pairing dinners and do some cool culinary drinks.
4) I know a lot of shakers in town have a few books, many of them historical, that inspire their drinks. Have any favorites?
The first book that really opened the Pandora's Box of cocktails for me was David Embury's The Fine Art of Mixing Drinks. From that first dusty copy of Embury I found my way to Harry Johnson's Bartender's Manual which really preached service and professionalism beyond the actual drinks being served. That's the one that really hits home and is a constant reminder that we're in the business of hospitality.
5) What do you drink when you're at home?
I like to take it easy at home, a little Cynar at the end of the night is always a favorite. When I started out in this business I was a super wine geek. I'm a big fan of Owen Roe, and their '08 Rosa Mystica Cab Franc is something that helps to unwind after a long night of slinging drinks. I try to keep it simple at home and do my experimenting in a professional kitchen.