Exclusive Interview
Naomi Pomeroy on Top Chef
Fear factor and survivor: Naomi Pomeroy dishes on Top Chef Masters, debuting tonight on Bravo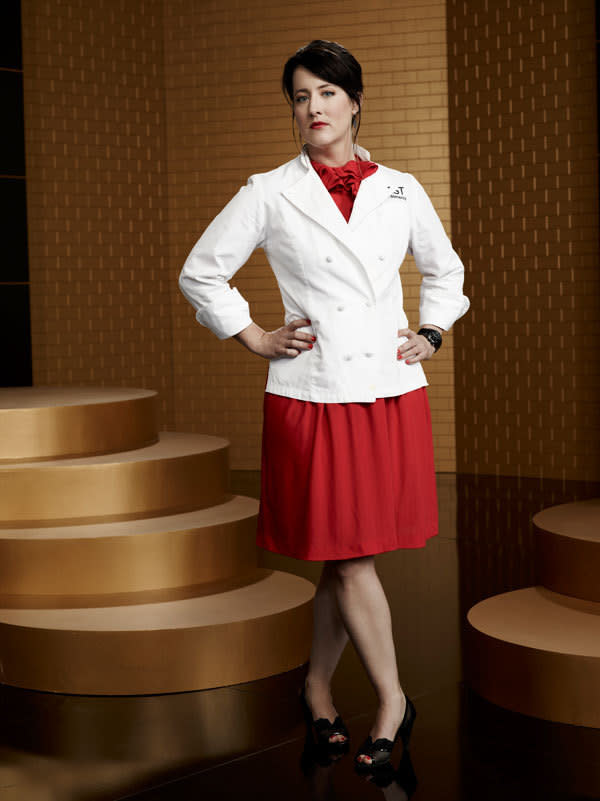 Will Portland's food queen Naomi Pomeroy, the beauty behind the Beast, take down 11 of the country's savviest cooks on Top Chef Masters? Can she win over one of the toughest food judges on the planet—former Gourmet editor and New York Times restaurant critic Ruth Reichl? Get out your juiciest snacks and watch the battle unfold. The knives will be drawn for tonight's season premiere at 11 p.m. on Bravo. (Starting next Wednesday, April 13, the show will move to it's regular 10 p.m. time slot.)
Pomeroy is no newcomer to the heat of competition. Last fall, she was knocked out on Iron Chef America by Latin fusion "master" Jose Garces (who takes on Portland's Vitaly Paley on April 17). But don't ever count Pomeroy out. Though Garces won by a spaghetti strand, she bested him in the all-important "taste" score. And Top Chef Masters drives as much on the ability to adapt to crazy situations as to nail flavors and techniques. Most of these chefs are used to luxurious surroundings, while Pomeroy dwells in Portland's tough-it-out DIY school.
The show prohibits discussing who wins or loses. But we got a pretty good sense of how Pomeroy played the game:
Q: Portland knows you're a top chef and the master of pulling off the unexpected. But how did Bravo get the word? Did you audition for the show, or is it by invitation only?
A: It's kind of a mysterious process. I was contacted by e-mail from Bravo in November. I had never seen the show, and wanted to make sure I could pull it off, so they sent me old tapes. It meant being gone for the month of February. I'm a small-business owner and a single mom. After watching hours and hours, I talked to my staff and realized we could swing it. I didn't know if it would be life-changing or what I was getting into. Of course, I was anxious. But I'm an "opportunity knocks" person.
Q: Top Chef stirs the pot between contestants. What's the recipe for Top Chef Masters?
A: Masters has more established chefs, with national recognition and their own restaurants. Top Chefs live together and there's more drama, more how the day went. Masters is not so cutthroat. We stayed in same hotel, but we weren't filmed after hours. The competitive spirit is more about individual pride, and fighting for a charity.
Q: If you win, who gets your $100,000 top prize?
A: Seed Savers Exchange, an heirloom seed bank in Iowa. Animals and hunger have plenty of advocates—I wanted a cause that needed air time. Protecting seeds from extinction is a good message to send to people.
Q: What was day one like?
A: We set up for the first elimination challenge. You don't know what to expect or who the judges will be. I didn't know who I'd compete against until everybody walked into the green room. You don't know how fast the time will go by. You're not even thinking; it's like going through a dark tunnel. It's just high anxiety. Everyone is quiet, internal and focused.
Q: How fierce a competitor is Naomi Pomeroy?
A: I've been through a lot in the last five years or so. Today is the anniversary of the opening of the Gotham Tavern [which closed and dissolved Pomeroy's Ripe restaurant group]. I've succeeded, failed, succeeded again. I'm scrappy. I'm very competitive with myself, but not with others. Proving I can do a good job in a really scary situation is not about winning; it's a battle with myself.
A: Now that you're an Iron Chef veteran, which battles are more intense?
Q: They're totally different; apples and oranges. Iron Chef is a team against another team, the key word being team. In Masters, when it's time for, say, desserts, and you're not a pastry chef, there's a big fear factor. That's what people fear most: pastry time. Most chefs have pastry chefs.
Q: What's next?
A: I'm open to seeing what the universe brings…that's how it works for me. I'm not searching properties for that next venture; I'm not shopping a book. Things come naturally if you let them.
Root for our homegirl Wednesday night at the Spirit of 77 sports bar, home of enormous screens. The party kicks off at 7 p.m. with a one-hour Q&A with Pomeroy herself, and the premiere will screen at 8 p.m.