FOOD AND WINE EVENTS
Paley's Place Gets Salted
Portland's own artisan salt expert Mark Bitterman joins Vitaly Paley and team for the next Sustainable Seafood Sunday dinner.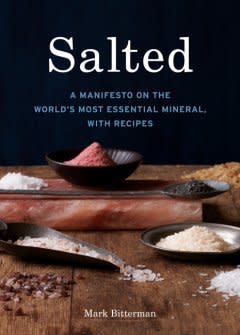 Still glowing with near-radioactive greatness after his Iron Chef America victory, Chef Vitaly Paley of Northwest Portland favorite Paley's Place is joining forces with local salt experts Mark and Jennifer Bitterman this Sunday for a well-seasoned and educational evening of good eats. The latest in a series of first-Sunday suppers focusing on the importance (and deliciousness) of sustainable seafood, the "Salted" event will focus on the interplay between responsibly sourced seafood and artisan salts. Think pastrami-cured local steelhead with Himalyaan salt, Olympic Peninsula spot prawns roasted in Himalayan rock salt, salt-roasted red snapper, and a salt-tastic raw bar featuring creative dishes like hiramasa – the "king of yellowtail" – with lobster roe vinaigrette.
Arrive hungry – and with an appetite for discovery – because diners will have the opportunity to chat about all things salty with James Beard nominee Mark Bitterman, author of Salted: A Manifesto on the World's Most Essential Mineral, with Recipes, and his wife Jennifer Bitterman, co-owners of the Meadow, a specialty salt, chocolate, and flower shop on North Mississippi. Need a recommendation for the perfect salt for some dreamy chocolate chip cookies? Want to learn how to use whole blocks of salt to sear, cure, and chill food in a whole new way? In this intimate venue, you'll be able to rub elbows with the experts and take away tips to transform the way you think about the most important ingredient in your kitchen.
Sunday, May 1, at 1204 NW 21st Ave. Seatings at 5 p.m. and 8 p.m., $65, with $25 optional wine pairing. For reservations, call 503-243-2403