Coming soon
Pedaling Potables
When will we be seeing this around town?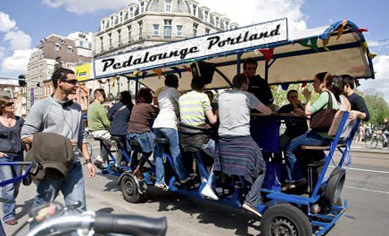 I heard there was one of these contraptions in Bend, and I was steamed that Portland was so behind the times. It appears that progress has caught up with us at last.
From the Facebook site.
The Portland Pedalounge is a 14 Human-Being-Pedal-Powered vehicle. It goes over here, and then down that way, and then stops for a little while, all at the whims of the driver and the human engine. It is a magnificent machine and provides extreme fun. You will be able to see it and book tours in May of this year. Get ready.
Drink beer and get a cardio workout? Let's do it! At this point it looks as though Pedalounge will only ferry people to and from the pubs. We might have to wait a while before actual swilling and cycling takes place. More details as they materialize.