Behind Bars
Shenaut Will Shine at the Crystal
Mixologist David Shenaut joins the McMenamins empire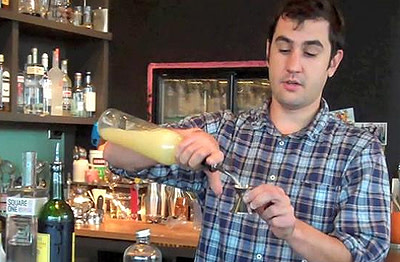 It's looking like the brothers McMenamin are upping their game on several fronts with the opening of the new Crystal Hotel and Ballroom. They've made a major move toward cocktail respectability with the hiring of Beaker and Flask bartender David Shenaut, who will be mixing drinks at the new Zeus Cafe in the downtown hotel. I chatted with Shenaut about his new position working with bar manager Mike Lorberbaum to bring real consistency to the making of classic cocktails like the mai tai, margarita, mint julep, negroni, and Ramos gin fizz (my go-to breakfast drink). "I can't speak for the company," he says, "but it seems to me from the people they're bringing in that the level of cocktails, wine, and food will be several notches above what we've come to expect from the pubs."
In particular, Shenaut is keen to work with the state-of-the-art Kold-Draft ice machine being installed at the Zeus Cafe. "All of the top bars in New York and San Francisco have Kold-Draft systems," he explains. In the simplest of terms, Kold-Draft makes bigger, harder ice cubes that melt slowly which results in a crisp cocktail that doesn't dilute as quickly. "Ice cubes are a very important cocktail ingredient," Shenaut says, adding that only three Portland bars currently use Kold-Draft technology.
Shenaut believes that the addition of a true upscale venue to the McMenamins empire will be good for business across the board. "I think we're going to get to a point where you can go into a McMenamins, ask for a negroni, and you'll see the bartender go to the fridge for the vermouth," he says. And that's a good thing.